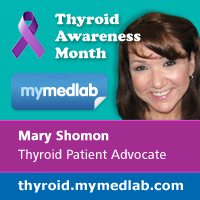 I am excited to be able to help make this important test available and affordable to as many people as possible." Mary Shomon
Joplin, MO (PRWEB) January 11, 2012
To honor Thyroid Awareness Month, digital health pioneer, MyMedLab will help undiagnosed patients take that first important step toward a thyroid diagnosis. For only $25.00, consumers can purchase a baseline Thyroid Stimulating Hormone (TSH) screening.
"The Thyroid Stimulating Hormone test is not only the first step to getting a thyroid condition diagnosed, it continues to be a part of the thyroid patients' heath management system," said Mary Shomon. "I am excited to be able to help make this important test available and affordable to as many people as possible."
The thyroid is a small, butterfly-shaped gland, located in the neck. The hormones released by the thyroid control energy and metabolism and are essential for many important physical functions.
According to the American College of Endocrinology, thyroid disease is more common than diabetes or heart disease. Thyroid disease is a fact of life for as many as 30 million Americans and more than half of those people remain undiagnosed. When undiagnosed and untreated, thyroid problems can cause a variety of debilitating symptoms: including weight gain or inability to lose weight, depression, brain fog, anxiety, fatigue, low sex drive, hair loss, high cholesterol, infertility, and other troublesome issues. Because symptoms can sometimes be broad, thyroid disease is often misdiagnosed as a mental health issue, and the symptoms are attributed to lack of sleep or exercise, overeating, or other lifestyle issues.
"Thyroid patients are frequently charged as much as $100 or more for the TSH test," said David Clymer, CEO of MyMedLab. "We wanted to mark Thyroid Awareness Month 2012 by making the first-level thyroid screening affordable to everyone."
The MyMedLab tests provide a simple and affordable way to receive an unbiased evaluation of your current thyroid health. Available in over 2,000 locations nationwide, the initial test results will establish a baseline of values that can be used for comparison to future results. For an additional fee, Mary Shomon is available for expert phone consultation.
Log on mymedlab.com/thyroid to order your thyroid stimulating hormone (TSH) lab test for only $25.00 through January 31, 2012.
About MyMedLab
MyMedLab is a leading provider of direct-to-consumer laboratory testing services. MyMedLab has developed a unique suite of software applications and professional networks that enable the ordering, processing, and reporting of test results directly to consumers. MyMedlab.com allows consumers to access test results in 6 easy steps! Step 1. Order test online. 2. MML Dr. Approves. 3. Print lab order. 4. Visit local lab. 5. View results online. 6. Order an expert review. Start making more informed health care choices, visit; http://www.mymedlab.com
About Mary Shomon
Mary Shomon is a patient advocate, writer and communicator who has transformed her own struggle with thyroid disease into an advocacy campaign on behalf of patients with chronic diseases such as thyroid disease, autoimmune conditions, and chronic fatigue.
Mary is the author of the New York Times best-selling book The Thyroid Diet: Manage Your Metabolism for Lasting Weight Loss. (2004) "Thyroid Diet" was also a semi-finalist for the prestigious Quills Awards in 2005. To learn more, visit; https://www.facebook.com/thyroidsupport
###