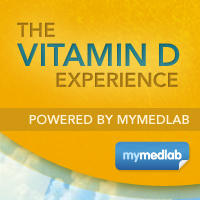 "Testing for and correcting Vitamin D deficiency is one of the easiest ways to improve an individual's risk of stroke and other significant chronic and debilitating diseases." Dr. Craig Brandman
Joplin, MO (PRWEB) February 08, 2012
The MyMedLab Vitamin D Experience is a three step process that includes creating a baseline starting point with a before test, a 60-day supply of Micellized Vitamin D3, and a follow up test to monitor results.
"A recent Vitamin D study by researchers from the University of Alabama found that those with a higher level of vitamin D in their diet, decreased their risk of stroke and cognitive impairment by 11%," Said Dr. Craig Brandman a Palo Alto, California based cardiologist. "Testing for and correcting Vitamin D deficiency is one of the easiest ways to improve an individual's risk of stroke and other significant chronic and debilitating diseases."
"The establishment of the starting point and measuring response with subsequent tests makes Vitamin D treatment the ultimate personalized medical treatment." Added Dr. Brandman.
In an effort to bring the power of social media to The Vitamin D Experience, MyMedLab's CEO, David Clymer has posted his own Vitamin D Experience results on their Facebook page to encourage the community to share their stories.
"The Vitamin D Experience can have a great impact on the lives of our customers," Said David Clymer. "We're hoping that the power of social media and the conversations create a greater awareness of Vitamin D. By sharing their stories this month, one Facebook fan will win a free Vitamin D Experience."
To sign up for the Vitamin D Experience, visit MyMedLab.com.
About MyMedLab
MyMedLab is a leading provider of direct-to-consumer laboratory testing services. MyMedLab has developed a unique suite of software applications and professional networks that enable the ordering, processing, and reporting of test results directly to consumers. MyMedlab.com allows consumers to access test results in 6 easy steps! Step 1. Order test online. 2. MML Dr. Approves. 3. Print lab order. 4. Visit local lab. 5. View results online. 6. Order an expert review. Start making more informed health care choices, visit; mymedlab.com
###