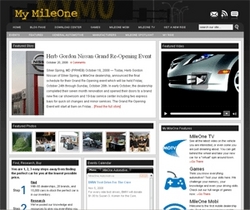 In addition to creating an online community, we use MyMileOne to promote events in our local communities which span from Northern North Carolina through Virginia, Maryland and Pennsylvania
Baltimore, MD (PRWEB) October 30, 2008
Today, MileOne Automotive launches their social media site MyMileOne.com. The new site will allow visitors to watch videos, discuss new and used cars, learn about upcoming events, download automotive wallpaper for their computer or mobile device, play games and get the latest updates on discounts and specials from MileOne's 28 different manufacturers. Fans of MyMileOne.com can stay connected to the site's updates through RSS feeds and any of the major social networks like Facebook, MySpace, Twitter, YouTube and Flickr.
"Over the last year, we have been shifting our online philosophy to better mirror the online behaviors of our customers," said MileOne's Chief Marketing Officer, David Metter. "People are spending more and more time online watching videos, playing games, writing and commenting on blogs and we want to provide information in these more informative and exciting formats. Who wants to read about a new car when you can actually see it speeding down the road and slamming on the brakes? Who wants to be told information and never be given the chance to comment? Some say it's not a good idea to give your customers a voice because you might not like what you hear, but we say just the opposite. If people are unhappy, we want to know and we want to be given the chance to take action and we certainly hope when the reverse is true, customers will come to MyMileOne to share their stories. I really think customers are going to enjoy using MyMileOne to connect with not just MileOne, but the world of cars and trucks as a whole."
MileOne hopes customers, enthusiasts and anyone who wants to learn about and discuss cars, will come to the site and take advantage of the great new car videos on MileOneTV and YouTube that include professionally shot and rough cut videos. Visitors are also encouraged to use the "My Ride" section to share photos and videos of their own cars through Flickr and YouTube. Customers can even post photos on MileOne's MySpace and Facebook walls.
"In addition to creating an online community, we use MyMileOne to promote events in our local communities which span from Northern North Carolina through Virginia, Maryland and Pennsylvania," said Event Manager, Jeannetta McGettigan. "We participate and sponsor events ranging from local non-profit events like Relay for Life and Making Strides Against Breast Cancer by the American Cancer Society or the Dragon Boat Races from Catholic Charities, to large sporting events such as the Baltimore Ravens Games and NASCAR in the Poconos. You can ask anyone that works for MileOne...we don't just want to be in your neighborhood, we want to be a part of it."
To see what events MileOne has recently participated in or to read about their upcoming new car models and ongoing building renovations, go to http://www.MyMileOne.com.
About MileOne Automotive (http://www.mileone.com):
MileOne Automotive operates 65 retail automotive franchises representing 28 different brands and 9 collision centers in Pennsylvania, Maryland, North Carolina and Virginia with a focus on the Baltimore-Washington, Hampton Roads/Virginia Beach, Nags Head/Elizabeth City and Wilkes-Barre/Scranton major metro areas. MileOne.com allows customers to research new, used and fuel-efficient luxury, import and domestic cars and trucks, send information about vehicles to their mobile device, schedule service appointments, buy parts and accessories, play automotive games, and download automotive wallpaper and mobile ring tones. For more information or to find a quality MileOne dealership near you, please visit http://www.mileone.com.
###