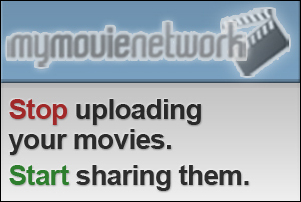 MyMovieNetwork's features and tools provide an independent filmmaker with ability to bubble up to the top in their creative space
New York, NY (PRWEB) April 30, 2007
How does "Generation Net" get their foot in the door of a potential job, film, or fine arts school? A new option is to send the potential employer or prospective school your professional portfolio created on MyMovieNetwork.com MyMovieNetwork stands alone in the online video sites by focusing on the amateur and independent film making community by providing film makers an environment to showcase their work, give and receive constructive feedback, participate in contests to push them to new levels of quality.
MyMovieNetwork now offers a tool which provides members the ability to create a professional looking portfolio that can be viewed from anywhere in the world. The portfolio tool is part of a larger suite of online social and professional development tools on MyMovieNetwork.com, tools that are designed for the entertainment industry and constantly improved with new functionality based on member and visitor feedback. MyMovieNetwork's ultimate goal is to bring individuals in the entertainment industry to the next level.
"Sending out your portfolio is a great way to showcase your work whether you're applying for a job, want to impress a potential client or looking for admission into that selective college or university", says Clint Mazur of Vidfinity LLC. "Parents are always looking to give their children the edge in today's competitive scholastic environment and MyMovieNetwork is helping them find it."
Portfolios go hand in hand with the growing scouting feature where members can define when and where they are available for assignments and for which role. Any site member working on a project can search for availability of others by looking for requisite location or role, identifying the right person and then contacting that person to see if they would work with them through private messaging functionality.
"MyMovieNetwork's features and tools provide an independent filmmaker with ability to bubble up to the top in their creative space", says Mazur. A clear indication of this is the popularity and success of the multiple film contests MyMovieNetwork hosts. Contest winners receive cash and prizes but more importantly greater exposure and bragging rights.
About MyMovieNetwork.com
Launched in 2006, MyMovieNetwork is a unique online community that provides tools for filmmakers to showcase their work around the world by posting their films and portfolios as well as, learn from, network and collaborate with fellow movie makers. MyMovieNetwork runs contests to find the best filmmakers, provides tools for scouting, blogging, linking to personal film archives and members can create a studio where all their films, cast and crew are associated with their studio. For more information please visit MyMovieNetwork.com For sponsorship opportunities please contact us on advertise page at http://mymovienetwork.com/pages/advertise.aspx
###