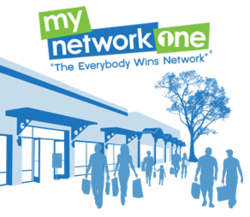 The most affordable and easy to use marketing system in the marketplace that enables business owners to deliver their message across many different mediums.
Tampa Bay, FL (PRWEB) March 29, 2012
MyNetworkOne is the new way to connect local economies all across the nation. It is a marketing system that helps businesses deliver their message. From Orlando, FL to Davenport, IA, to Los Angeles, CA there is an opportunity for My Network One to make a positive impact.
The economy has been tough on the typical small business owner. It's been hard to find new customers, keep these customers, and continue to grow as a business in any industry. Options for small business owners are running out, and in many cases lack of business means inevitable downfall. Small business owners consistently struggle with their time, as well as how to leverage the ever changing multitude of online new media outlets. My Network One will become a solution to this problem so that local businesses can prosper and thrive. Owning and operating a business on both large and small levels is "The American Dream" and these small businesses are what drive the United States economy. My Network One is helping business owners fulfill "The American Dream".
My Network One leverages small business networking with local consumers and organizations. The networks are localized, and each of the local networks are owned and operated by "network directors" who live in these local communities. It provides an online community illustrated through personal and business dashboards where users/business owners can interact via multiple online mediums. Some examples of these mediums include social media pages, text messaging, direct messaging, rss feeds, blogs, contests, daily deals, etc. My Network One bridges the gap between consumer and business owner making it effortless to communicate, offer local deals, create incentives for purchase, and allow referrals to be passed between consumers and business owners.
Aside from consumers and business owners, local charities and charitable organizations can benefit from MyNetworkOne as well. There can be fundraising intermixed with the buyers and sellers to help those in need. Certain proceeds from new sales and daily deals bought can make it easy for an organization to raise money for charitable reasons. It's a win', win', win' situation. Businesses increase sales and grow, consumers save money by shopping smart, and charities benefit by receiving partial income. This is the reason MyNetworkOne was created. It helps out everybody involved, and everybody wins.
At every point in a business owner's life the question of how to increase business becomes apparent. My Network One and the entire corporate team are trying to solve this problem. Sustaining the American dream through affordable supply and demand is imperative. Let My Network One guide this dream and keep it alive. To learn more go to MyNetworkOne.com.