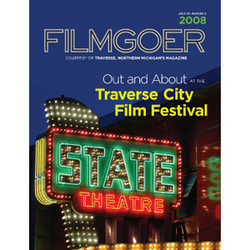 I Worked with Michael Moore and Lived to Make This Movie
Traverse City, MI (PRWEB) August 3, 2008
MyNorth.com, the online home of Traverse, Northern Michigan's Magazine, makes the Traverse City Film Festival's celebrity panel discussions available on the Internet. Additionally, in its "Behind the Screen" video series, MyNorth.com offers video interviews with directors, actors and the film industry's noted glitterati who've gathered in Traverse City, Michigan for the Film Fest. The first video available is an interview with Janet Lockwood of the Michigan Film Office at MyNorth.com/Video
With its "Behind the Screen" Series--Video Extras To Enrich the Film Fest Experience--MyNorth.com hopes to provide film aficionados worldwide with an insider's view of the Traverse City Film Fest experience.
"This is a world-class film event. Our goal is to enrich the experience for Film Fest attendees and to encourage those who didn't make it to mark their calendars for next year," says Deborah Wyatt Fellows, founder and editor-in-chief of Traverse, Northern Michigan's Magazine and MyNorth.com. "For those who can only get to one panel session or perhaps didn't get in line early enough to get a seat, we provide what they missed. We'll also provide personal, one-on-one interviews of directors, asking the unasked questions and digging a little deeper."
Traverse has been covering Northern Michigan for decades, celebrating and protecting the resources that make it a great vacation spot as well as a growing community. With these "Behind the Screen" videos, MyNorth.com hopes to reveal the qualities of the region to a worldwide audience.
For TCFF attendees, Traverse produces Filmgoer, a guide to restaurants, shopping, art galleries, beaches and more, in addition to the nuts and bolts of the festival, such as where to find parking, buy T-shirts and volunteer to help with next year's festival. Filmgoer is available free at all the Film Fest venues and online as a downloadable PDF on MyNorth.com/filmgoer.
The first video available today at http://www.mynorth.com/My-North/Video/ is an interview with Janet Lockwood, director of the Michigan Film Office. After the first Traverse City Film Festival panel discussion, titled "Front and Vine: Showing Movies at the State, Making Movies in Michigan," Pete Nichols, reporter for MyNorth.com, spoke with panelist Janet Lockwood, director of the Michigan Film Office. He asked her to elaborate on one of the panel discussion's topics: mainly, how Michigan's state government recently approved a bipartisan strategy to create jobs by attracting the film industry to Michigan with the most competitive incentive package in the country. Under the legislation, filmmakers enjoy a tax credit--the biggest tax break for the film industry in the entire nation, ranging up to 42 percent. In this video, Lockwood answers questions about what the incentives have produced so far, why a single industry would get such incentives and how Michigan can attract $300 million of film industry budgets to the state.
Coverage of the Traverse City Film Festival's panel discussions continues on MyNorth.com over the next few days. Panel discussions at the Film Fest are free to the public on a first-come, first-serve basis, limited to the seating available at the City Opera House. Panel discussions and invited panelists include:
"Front and Vine: Showing Movies at the State, Making Movies in Michigan"
Featuring panelists Rich Brauer, Russ Collins, Sean Fine, Christine Lahti ("Yonkers Joe"), Michael Moore, Janet Lockwood of the Michigan Film Office, Andrea Nix-Fine, special guests
Sponsored by Warner Norcross & Judd LLP
"Who Are These Terrorists and Why Do They Make Movies?"
Daniel Evans ("War, Love, God & Madness"), Amin Matalqa ("Captain Abu Raed"), David Pritchard ("Captain Abu Raed"), Laura J. Winter ("Baghdad High"), Christopher Trumbo ("Trumbo")
Sponsored by the U & I Lounge
"The Phil Donahue Show, Live in Traverse City!"
Phil Donahue with guests Michael Moore and Stanley Donen
Sponsored by Ungaretti & Harris LLP
"Saturday All-Star Comedy Panel"
Larry Charles ("Religulous"), Sabina Guzzanti, John Lyons, special guests
Sponsored by Longview Winery
"I Worked with Michael Moore and Lived to Make This Movie"
Carl Deal ("Trouble the Water"), Tia Lessin ("Trouble the Water"), Jason Pollock ("The Youngest Candidate"), Gini Reticker ("Pray the Devil Back to Hell")
Sponsored by Bay Bread Company and Bob & Carol Goff
MyNorth.com began its video coverage of the Traverse City Film Festival when tickets went on sale for Madonna's documentary, I Am Because We Are, on Saturday, June 7 at the State Theatre in Traverse City, Michigan. MyNorth.com interviewed people buying tickets; many had been waiting in line overnight, some for days. The video is available at MyNorth.com/video.
I Am Because We Are, written, produced and narrated by Madonna, will be shown on August 2, at 8:00 p.m. at the State Theatre. Madonna will introduce the film, which documents the one million orphans in Malawi who've lost their parents to AIDS. All the ticket money, $25 per ticket, will go to the Raising Malawi Foundation, a project of Madonna's that helps Malawi orphans.
About Prism Publications, Inc.
Prism Publications, Inc., founded in 1981 by Deborah Wyatt Fellows, publishes MyNorth.com, Traverse, Northern Michigan's Magazine, Northern Home & Cottage and Destination Northern Michigan, a Northern Michigan travel guide, in addition to several other print and online publications. Traverse and its staff have won more than a dozen national and international awards for excellence, including a 2008 silver award for general excellence from the City and Regional Magazine Association and the 2007 "Magazine of the Year" award from the International Regional Magazine Association. Prism has also published [Reflections of a Life Up North, a coffee-table book of stunning photography from Traverse paired with a collection of Fellows's columns, which has been reprinted in an expanded edition. Prism Publications is also a proud sponsor of many events including the Cottage & Lakefront Living Show, the Michigan Log & Timber Expo, The Epicurean Classic and the National Cherry Festival's Cherries D'Vine event. The privately held company is headquartered in Traverse City, Mich. For more information, visit mynorth.com or call (231) 941-8174.
###