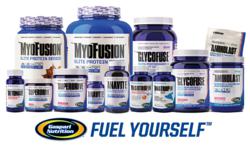 "My brand has really come a long way over the years and continues to evolve, which is very exciting" said CEO Rich Gaspari. "I'm now ready to take it to the next level with an enthusiastic management team and an all new look for 2013."
(PRWEB) January 15, 2013
Gaspari Nutrition®, a globally distributed sport nutrition company, has formally announced they are introducing a new packaging design for their line of sports nutrition products.
Now it is easier than ever to distinguish Gaspari Nutrition products from other nutrition brands, as well as from each other. Keep an eye out for the revolutionary new look including white lids, the same blue bottle Gaspari Nutrition has been distinctively know for, and a stunning white label. The new labels showcase more information at the front of the packaging like suggested times to use, product benefits and nutritional highlights.
The first products which alluded to this change were launched in 2012. With the release of the new and highly anticipated Myofusion Elite Protein Series, it is now official that Gaspari Nutrition has a fresh look that is here to stay. Whether you come across their old or new packaging, you'll be happy to know that you'll be getting the same great products that are critically acclaimed around the world. The next product to embrace this change will be Anavite. This sports nutrition favorite is a multivitamin and mineral formula that includes high doses of amino acids such as Carnipure Carnitine Tartrate and Carnosyn Beta-Alanine. It's the same great formula only now with no artificial colors and a new look.
"My brand has really come a long way over the years and continues to evolve, which is very exciting" said CEO Rich Gaspari. "I'm now ready to take it to the next level with an enthusiastic management team and an all new look for 2013."
Newer products such as Glycofuse, which is a revolutionary low osmolarity carbohydrate drink mix, already have this new look. The same goes for Aminolast, which is a properly dosed branched chain amino acid drink mix that utilizes Albion minerals as electrolytes for performance athletes. Rest assured that more established products undergoing this shift in packaging design will still have the same great Gaspari Nutrition signature formulations.
Gaspari Nutrition's complete sports nutrition product portfolio is expected to complete their transition by the end of 2013. This new look represents Gaspari Nutrition's continued commitment to quality control as the new designs have a cleaner and brighter appeal while supporting regulatory compliance around the world.
About Gaspari Nutrition®
Gaspari Nutrition is headquartered in Lakewood, NJ and is a rapidly expanding, healthy lifestyle sports company that develops and distributes a full line of nutritional supplements. Gaspari's propriety and award winning products address all categories of an active lifestyle including muscle building, weight loss, and general fitness through a daily nutritional supplement regimen. They are one of the few companies to sponsor independent, 3rd party research on their products to prove their efficacy. Gaspari Nutrition is sold in over 95 countries and available in over 5,000 US retail outlets that include GNC, Vitamin Shoppe, Kroger, Dick's Sporting Goods as well as over 100 online stores, including Bodybuilding.com, Amazon and DrugStore.com. For more information, please visit http://www.GaspariNutrition.com.