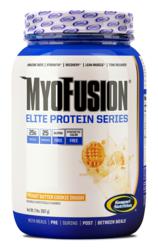 "Gaspari Nutrition has exploded over the past five years under Rich's leadership and the Myofusion Elite Protein Series was a true team effort from packaging design to sensory appeal. We look forward to a very prosperous 2013." said Dan Pierce
(PRWEB) January 10, 2013
Gaspari Nutrition®, a globally distributed sport nutrition company, has announced the official launch of Myofusion Elite protein series. Already available at major retailers such as GNC.com and Bodybuilding.com, Elite is projected to skyrocket in sales with retailers clamoring to get it on shelf. The original Myofusion was an instant hit when launched in fall of 2007 because of its great taste and ultra-smooth mouth-feel. Subsequent series such as Hydro and Probiotic have also received praise from the global fitness community for the same reasons. Myofusion Elite will come in five flavors, including the highly anticipated 'Peanut Butter Cookie Dough.'
"Myofusion Elite represents the evolution of Rich Gaspari's brand which is based on a commitment to quality and effectiveness for the global fitness community. The flavoring is unrivaled and sure to please even the most critical sports supplement consumers out there," said Vice President of Brand Strategy & Product Development Daniel Pierce.
Pierce, who helped craft the original Myofusion brand positioning with Rich Gaspari stated, "Gaspari Nutrition has exploded over the past five years under Rich's leadership and the Myofusion Elite Protein Series was a true team effort from packaging design to sensory appeal. We look forward to a very prosperous 2013."
The great taste and effectiveness of the Myofusion brand are a testament to Rich Gaspari's relentless commitment to sports nutrition and are a perfect fit for those looking to embrace a healthy diet. Elite Series consists of a four milk protein based blend with 25 grams of protein and on average 5 grams of carbs per serving much like its predecessor Myofusion Hydro. It's manufactured to SQF-2000 standards to help meet global quality control requirements. Look for Myofusion Elite Protein Series to be hitting brick and mortar retailers in the coming days. It should be available in Europe by February of 2013 and in Australia in April 2013. For more information, check out the Myofusion Elite product page at http://www.gasparinutrition.com/products/myofusion-elite/
About Gaspari Nutrition®
Gaspari Nutrition is headquartered in Lakewood, NJ and is a rapidly expanding, healthy lifestyle sports company that develops and distributes a full line of nutritional supplements. Gaspari's propriety and award winning products address all categories of an active lifestyle including muscle building, weight loss, and general fitness through a daily nutritional supplement regimen. They are one of the few companies to sponsor independent, 3rd party research on their products to prove their efficacy. Gaspari Nutrition is sold in over 95 countries and available in over 5,000 US retail outlets that include GNC, Vitamin Shoppe, Kroger, Dick's Sporting Goods as well as over 100 online stores, including Bodybuilding.com, Amazon and DrugStore.com. For more information, please visit http://www.GaspariNutrition.com.