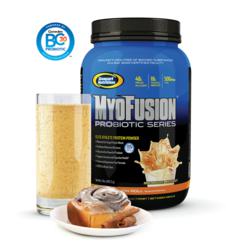 "We'd like to thank our valued partner Popeye's Supplements and CEO Bernie Ferbey for all the support of our brand. Canadian consumers are very important to us and we're glad that they value our products so strongly," said Rich Gaspari, CEO
(PRWEB) January 18, 2013
Gaspari Nutrition®, a globally distributed sport nutrition company, is pleased to add three new accolades to its supplement awards repertoire. Myofusion Probiotic Series was the recipient of two Popeye's Supplements Canada honors (Gold Award for Overall Product of the Year and Sustained Release Protein of the Year), while SuperPump Max received the other (Sustained Energy Pre-Workout of the Year).
"We'd like to thank our valued partner Popeye's Supplements and CEO Bernie Ferbey for all the support of our brand. Canadian consumers are very important to us and we're glad that they value our products so strongly," said Rich Gaspari, CEO of Gaspari Nutrition.
Myofusion Probiotic Series was launched in the beginning of 2012 as a revolutionary new protein blend that featured the critically acclaimed Ganeden BC30 probiotic for immune and digestive support. The blend is made up of six different protein sources, hence its nomination and victory in the 'sustained release protein' category. Myofusion Pro's 'Gold Award' is significant, given the ever-growing and competitive nature of the supplement industry. It'll have some in-house competition for next year's awards, with Gaspari Nutrition's recent release of the all new Myofusion Elite Protein Series as Gaspari expands the Myofusion brand.
"As the Myofusion brand readies itself for expansion we're elated to receive this award for Probiotic Series. It truly is a revolutionary product and we're proud that Canadians support us as we continue to bring new innovation to the market place," said Daniel Pierce, Vice President of Brand Strategy and Product Development.
SuperPump Max has been a staple in the Gaspari Nutrition arsenal, and the 'Sustained Pre-Workout of the Year' award solidifies its persistence in what has become a dynamic pre-workout market. It is recognized by fitness enthusiasts around the world as a performance-driven supplement that doesn't rely on heavy stimulants to deliver results. This isn't the first time SuperPump Max has found itself in the Canadian supplements winner's circle. Last year SuperPump Max took home two awards, including 'Best Tasting Pre-Workout' and 'Pre-Workout of the Year.'
Gaspari Nutrition ended 2012 with a bang, launching Aminolast – Recovery and Endurance BCAA Superfuel, Glycofuse – Rapid Performance and Recovery Supercarb, and Detonate – Thermogenic Amplifier. The trio, along with new Myofusion Elite Protein Series are primed be contenders in next year's awards as well.
About Gaspari Nutrition®
Gaspari Nutrition is headquartered in Lakewood, NJ and is a rapidly expanding, healthy lifestyle sports company that develops and distributes a full line of nutritional supplements. Gaspari's propriety and award winning products address all categories of an active lifestyle including muscle building, weight loss, and general fitness through a daily nutritional supplement regimen. They are one of the few companies to sponsor independent, 3rd party research on their products to prove their efficacy. Gaspari Nutrition is sold in over 85 countries and available in over 5,000 US retail outlets that include GNC, Vitamin Shoppe, and Kroger, as well as over 100 online stores, including Bodybuilding.com, Amazon and DrugStore.com. For more information, please visit http://www.GaspariNutrition.com.