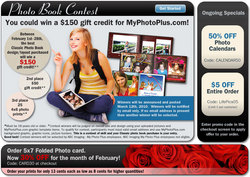 Where do you shop for gifts?
Washington, DC (Vocus) February 6, 2010
Online shopping or retail store shopping? The last 2 years have shown a drastic shift as more and more shoppers shift to the internet for online purchases. ABC Imaging's MyPhotoPlus.com produces photo books and photo gifts and has gained popularity as an online service company offering a diverse product line of photo gifts for online and walk-in customers. MyPhotoPlus.com attributes its success to easy to use photo gift templates as well as the fact that so many have now adjusted to, and are comfortable with purchasing items through the internet.
A small verbal survey of 200 people ranging in ages between 18 and 45 was conducted by James Dempsey (My Photo Plus Manager) and a question was asked "Where do you shop for gifts?", with the choices of internet, retail store or both. It seems that a combined 94% answered internet or both. James states, after brief conversations with those that participated, the conclusion was that the majority under the age of 30 have made the shift to shop online because of convenience. One 19 year old woman by the name of Danielle stated, "It's convenient to shop online and with so little time, I enjoy the time saved by purchasing gifts over the Internet."
That begs the question; Has the younger generation become so comfortable with computers to the level that shopping online for convenience has taken precedence over traveling to a store to shop for a gift and having a pleasant shopping experience? James states, "According to the answers provided to me, I would say yes."
On 1/25/10, The Los Angeles Times' Business Section wrote, Wal-Mart to cut 11,200 jobs at Sam's Club due to slow-moving items such as flat-panel TVs and jewelry, which have been hurt by the recession. Even market leader Costco Wholesale Corp. saw its net sales drop 2% for fiscal 2009 after a decade of double-digit sales growth.
The Vertical Web Media's Internet Retailer states, "Online shoppers will be sweet on Valentine's Day buying. A study by Javelin Strategy & Research for eBillme predicts 23% of online consumers plan to shop online for a Valentine's Day gift this year, and 9% say they'll spend more on the web than they did a year ago, a new report says. Consumers plan to spend an average of $236 online overall in the first quarter, keeping steady with last year's spending, according to the report."
The report is based on a poll of 1,200 online consumers conducted for eBillme, a payment services provider that enables online shoppers to make payments from their bank accounts.
Online shopping generates billions of dollars for manufactures and suppliers throughout the United States and many employers are hiring as a result. Data from the Census Bureau regarding manufacturing shipments and inventory changes showed a 4th quarter growth of 20% in 2009. Online shopping is stronger than ever and results from diverse reporting say saving money and convenience for the majority are key reasons, even the larger and more expensive items. It is almost as if the retail stores are becoming a showroom for internet buyers, knowing they can receive better pricing by purchasing online, and in some cases with free shipping.
James states, "Convenience and saving money plays a big role for most when it comes to shopping online, but the consumer's comfort level and the ease of use are key elements to the success of an online store as well". The online service MyPhotoPlus.com offers the ability to upload pictures from a mobile phone directly to their MyPhotoPlus.com account. James explains, "Offering the convenience of mobile phone internet technology is another way to make the online shopping experience an easy one." This year will be a time of new economic sales trends for many industries, thus leaving retail stores to either offer their products online and/or develop new strategies for advertising unique in-store product lines to attract the conventional retail customers to support the businesses expenses.
James said, "We recognize the emotional buying habits and trend shifts that are happening today within the photo gift industry and history is a testament to where we are headed. Online purchasing will be the future to which I have no doubt, but simply leading a horse to water doesn't mean it will drink. For MyPhotoPlus.com, photography is an emotional endeavor and photo gift purchases are the same." James goes on to explain, "Many photographers are not shooting professional pictures and have a need to have their pictures developed or printed in some form or fashion. MyPhotoPlus.com provides an emotional experience towards building a photo book to make it a pleasant experience."
MyPhotoPlus.com boasts that one the pictures and theme for a photo book are selected, the process is automatic, placing pictures and a selection of themed backgrounds to the selected photo book helping the online customer greatly. James of MyPhotoPlus.com says, "For example, the fun begins when the online customer wants to create a photo book with a creative scrapbook look to it well, with a slew of independent graphic icons and borders to choose from, each page can be a masterpiece. The possibilities are endless."
With a tricky economy and economic advisors scratching their heads, there is one thing that is certain, shoppers are gradually making the shift to online and MyPhotoPlus.com is listening to their customers to gain knowledge of shopping habits, and to offer emotional photo gift products allowing its customers to have fun and feel good about buying gifts online not only for friends and loved ones, but for themselves during these difficult times of change.
After all, with the uncertainty of our economy and people saving their pennies, this type of online service provides a form of stay-at-home entertainment as one would create a masterpiece of memories in the form of a photo book or gift.
To contact MyPhotoPlus.com by phone, call 1-202-429-8870 x339
###