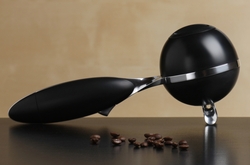 "Without the means to taste their coffee as espresso for quality control, farmers in remote, rural regions are left powerless to understand why their crops are rated higher or lower through subsequent years by green bean buyers," said Stephen O'Brien.
San Jose, CA (PRWEB) July 12, 2010
mypressi (Espressi, Inc.) today announced the launch of mypressi Origins, an international initiative giving coffee farmers access to the technology and equipment necessary to taste their beans from farm to cup as espresso, often for the first time. mypressi Origins aims to donate thousands of mypressi TWIST handheld espresso makers during the program's initial phase through a special "give one, get one" consumer initiative kicking off at the 2010 TEDGlobal conference which begins today in Oxford, England. For every TWIST purchased for $199 through the program - just ten dollars more than the regular retail price - mypressi will donate one TWIST to a farmer at point of origin.
While high-quality roasters and green bean importers currently conduct educational programs, mypressi Origins will be the first of its kind to give farmers the tools they need to extend their understanding of their crop and its unique flavor profile when extracted as espresso.
"Without the means to taste their coffee as espresso for quality control, farmers in remote, rural regions are left powerless to understand why their crops are rated higher or lower through subsequent years by green bean buyers," said Stephen O'Brien, mypressi's CEO and creator of the mypressi TWIST. "Our vision is to help the hard-working coffee farmers and their families reap the rewards of their labors, and to break the cycle of poverty at the producer level by giving farmers the tools they need to better understand and control their product."
mypressi Origins resolves a few standing issues in the current marketplace. The first is that electricity is often hard to come by at point of origin, preventing the use of traditional espresso machines. The TWIST's patented delivery system requires no electricity, allowing unprecedented access to espresso-making equipment in almost any setting. Additionally, many farmers rely solely on a cupping method to taste their crop, but beans that taste good when steeped during a cupping may taste very different as espresso due to the high pressure used during the extraction.
"By tasting their own beans in final form as espresso, farmers will better understand what buyers are looking for in specialty coffees and why their beans are rated in a particular way when their crop is sold," said O'Brien. "Earning even a few more cents per pound can make a significant difference in their life and in their community. Origins provides the training and the tools to make this happen."
For the first time the mypressi TWIST enables rural coffee growing communities to complete the quality control cycle, improve their crops, and attain a higher price at market when their beans are sold.
mypressi Origins is launching in El Salvador, Ecuador and Ethiopia, but is expected to expand quickly to other coffee growing regions in the third-world. The program has already received global recognition and support from TED Conferences where the TWIST has been selected as the official 2010 speaker's gift at the renowned TEDGlobal international conference. Speakers at this year's conference include luminaries from across the arts, sciences and philanthropy including Thomas Dolby, Annie Lennox, Chris Anderson and Peter Molyneux. Attendees and others can also participate in mypressi Origins by visiting the program online at http://www.mypressi.com/origins.
Heralded for its production of espresso with rich crema and exceptional taste, the award-winning mypressi TWIST is remarkably easy to use. Users simply insert a N20 or CO2 cartridge into the pressure chamber, fill the basket with fresh ground coffee or a coffee pod, fill the upper compartment with hot water, and pull the trigger for espresso perfection. The TWIST uses a patent-pending pneumatic delivery system powered by standardized gas cartridges to create the needed nine bars of pressure (about 135 psi) for ideal espresso extraction. Each cartridge is fully recyclable and makes up to eight single or four double shots.
For more information on the TWIST, visit mypressi online at http://www.mypressi.com.
Editor Note: Product demo units are now available. Please contact Caitlin Haedicke at caitlin@duopr.com for details.
About mypressi
At mypressi we live espresso. Our company is continually energized by the single-minded mission to bring true coffee quality and unprecedented convenience to espresso lovers everywhere. We believe that truly great espresso should be an easily shared experience accessible to all, including hard-working coffee farmers at origin. Delivering an extraordinary coffee experience--almost instantly--the mypressi TWIST uses a revolutionary pneumatic engine to provide perfect espresso time after time. It is small enough to fit into a desk drawer or save space in a small kitchen, and requires no external power source. It is the ideal companion for the creation of exceptional espresso or espresso-based drinks. In every way the mypressi TWIST finally delivers on the promise of quality coffee on the go. For more information, visit us online at http://www.mypressi.com.
###