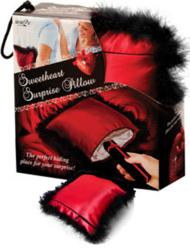 Fill your holidays with My Pure Pleasure!
Wexford, PA (PRWEB) November 21, 2012
The Holiday season is here! There is no better time to treat oneself and that special someone to a gift that will keep giving long after the holidays are over.
Tammy J. Gellner, Founder and President of My Pure Pleasure, states "while My Pure Pleasure parties sweep across the nation, many customers also enjoy the luxury of online shopping. With over 1,200 products, we make it easy to be your one-stop shop for all of the adults on your list."
Following are some suggested gift ideas available at MyPurePleasure.com for that special spouse, life partner, significant other, or yourself.
Sweetheart Surprise Pillow – This Pillow is the perfect alternative to wrapping a partner's gift. With its sexy red satin cover, black fuzzy trim, and discreet zipper that conceals a hidden compartment, this innocent red throw pillow will make storing a surprise or an erotic toy a real treat.
Lovers Holiday Collection – Designed to create a romantic celebration for adventurous partners. This collection features popular sex toy items hand-selected by Tammy J. Gellner, Founder and President of My Pure Pleasure to ensure a mind, body, and soul experience in the bedroom. This kit includes a 2 ounce bottle of Aromatic Massage Oil, 1 ounce tube of Making Whoopie edible arousal cream, mini Touch of Honey, Pink Silver Bullet, and a 1.25 ounce Moist Flavored Lubricant.
Body Dew Mist - Infused with pheromones, this silky body oil mist awakens the senses and revitalizes the body. Body Dew moisturizes and replenishes thirsty skin with a luxurious combination of beautiful essential oils. It restores skin leaving it more supple, sensuously soft, and fresh as early morning dew. Formulated with pheromones, the renewing effects leave skin more radiant and refreshed than ever, while increasing sexual awareness and intensifying romantic interludes.
For super specials through Monday, November 26, 2012, visit http://www.MyPurePleasure.com and enter the following coupon codes:
10% off every item – Turkey2012
Free Shipping on orders over $75 – Turkey12FS
Orders over $100 will receive a free The Rocker in blue – In the Company field enter Rocker
About My Pure Pleasure
"Our ultimate goal is to increase confidence, self-esteem, and sexual awareness in women, men, and couples through our in-home parties which are designed to Empower, Entertain, and Educate."
Founded in 2010 by Tammy J. Gellner, My Pure Pleasure is quickly becoming one of the nation's leading direct sales companies specializing in romance enhancement products. Through their unique in-home party format, independent sales Consultants provide tasteful presentations of the finest in bath, body, and bedroom accessories. With an extensive selection of over 1,000 items, My Pure Pleasure offers something for everyone and ensures that each item is body safe and female friendly.
My Pure Pleasure Consultants have the unique opportunity to own and manage their own business and prosper from unlimited income. Offering an innovative compensation plan, financially rewarding incentives, free company paid hostess rewards and more, My Pure Pleasure empowers each of their Consultants to live an extraordinary life, both personally and professionally and helps them to design their own "ideal life".
Whether their business serves as a means to provide for their family, a way to spend more time at home, a little extra spending money, or to fulfill the ultimate dream of financial freedom and a luxury lifestyle, My Pure Pleasure is there to provide the continual training and support needed for their journey.
As Consultants across the nation share the My Pure Pleasure Mission and Vision, the company will continue to experience steady and rapid growth, thus empowering and transforming the lives of all those they touch.