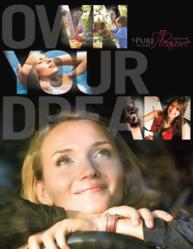 Start Living the Life YOU Deserve!
Wexford, PA (PRWEB) December 04, 2012
My Pure Pleasure, an adult home party company is proud to have successfully helped many families all across the United States achieve financial freedom since they opened their doors just one year ago this month.
The economy has many people struggling to pay their bills; however, My Pure Pleasure Consultants are not a part of that group. Consultants revel in the fact that they are doing exceedingly well selling something that might be a surprise to most. Sex toys and just about everything else one could need or want to spice things up in the bedroom.
My Pure Pleasure Consultants are from all walks of life. "Everybody's doing it." From stay-at-home moms to high-powered executives to military wives, regardless of religious beliefs. Many consultants actually receive the support of their church, since they are providing a means to help bring couples closer together.
Tammy J. Gellner, Founder and President of My Pure Pleasure states, "Our consultants love the money, but they say it doesn't compare to the satisfaction of empowering women and men to take control of their personal and professional lives."
My Pure Pleasure is always welcoming new consultants to the My Pure Pleasure family. Today, more and more women and men are looking for an alternative to the corporate world. They are tired of trying to juggle the impossible demands of long work days and family life. Having a career they can pursue from home, not only makes their life easier, but also allows them to spend quality time with their family.
About My Pure Pleasure
"Our ultimate goal is to increase confidence, self-esteem, and sexual awareness in women, men, and couples through our in-home parties which are designed to Empower, Entertain, and Educate."
Founded in 2010 by Tammy J. Gellner, My Pure Pleasure is quickly becoming one of the nation's leading direct sales companies specializing in romance enhancement products. Through their unique in-home party format, independent sales Consultants provide tasteful presentations of the finest in bath, body, and bedroom accessories. With an extensive selection of over 1,000 items, My Pure Pleasure offers something for everyone and ensures that each item is body safe and female friendly.
My Pure Pleasure Consultants have the unique opportunity to own and manage their own business and prosper from unlimited income. Offering an innovative compensation plan, financially rewarding incentives, free company paid hostess rewards and more, My Pure Pleasure empowers each of their Consultants to live an extraordinary life, both personally and professionally, and helps them to design their own "ideal life."
Whether their business serves as a means to provide for their family, a way to spend more time at home, a little extra spending money, or to fulfill the ultimate dream of financial freedom and a luxury lifestyle, My Pure Pleasure is there to provide the continual training and support needed for their journey.
As Consultants across the nation share the My Pure Pleasure Mission and Vision, the company will continue to experience steady and rapid growth, thus empowering and transforming the lives of all those they touch.