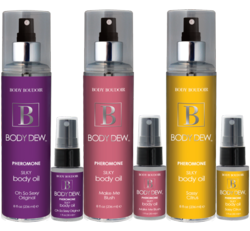 My Pure Pleasure Parties are designed to Empower, Entertain and Educate.
Wexford, PA (PRWEB) July 10, 2012
Attendees at in-home parties offered by My Pure Pleasure Consultants always love trying out the large selection of bath and body products offered by My Pure Pleasure.
With summer in full swing, who wants to stay covered up? As people bare more skin and soak in more sun, a typical party question is "How can I keep my skin soft and sensual this summer?"
One product that continues to please guests time after time is the My Pure Pleasure Body Dew Mist.
Infused with Pheromones, this Silky Body Oil Mist awakens the senses and revitalizes the body. It moisturizes and replenishes thirsty skin with a luxurious combination of rich oil blends infused with Vitamins A and E. The select blend of natural oils lock in precious hydration and help to restore dry skin, leaving it more supple, sensuously soft, and fresh as early morning dew. The renewing effects leave skin more radiant and refreshed than ever, while the pheromones help to increase sexual awareness and assist in intensifying romantic interludes. My Pure Pleasure Body Dew is available is 3 sexy scents and comes in an 8 ounce spray bottle and a 1 ounce spray which is great for travel.
Many party guests love the fact that My Pure Pleasure Body Dew is Paraben-Free, Sugar-Free, Sulfate-Free, Made in the USA, and never tested on Animals.
Offering a selection of items from pomegranate ginger scented shaving cream and body scrubs to light-up lip gloss and gorgeous shimmer creams, My Pure Pleasure has products that will keep you looking H-O-T all season long.
Tammy J. Gellner, Founder and President of My Pure Pleasure states "Caring for your skin during the hot weather months can be a challenge, but if you maintain a daily skin regimen you can achieve the sexiest summer you this year."
About My Pure Pleasure
"Our ultimate goal is to increase confidence, self-esteem, and sexual awareness in women, men, and couples through our in-home parties which are designed to Empower, Entertain, and Educate."
Founded in 2010 by Tammy J. Gellner, My Pure Pleasure is quickly becoming one of the nation's leading direct sales companies specializing in romance-enhancement products. Through their unique in-home party format, independent sales Consultants provide tasteful presentations of the finest in bath, body, and bedroom accessories. With an extensive selection of over 1,000 items, My Pure Pleasure offers something for everyone and ensures that each item is body safe and female friendly.
My Pure Pleasure Consultants have the unique opportunity to own and manage their own business and prosper from unlimited income. Offering an innovative compensation plan, financially rewarding incentives, free company paid hostess rewards and more, My Pure Pleasure empowers each of their Consultants to live an extraordinary life, both personally and professionally and helps them to design their own "ideal life".
Whether their business serves as a means to provide for their family, a way to spend more time at home, a little extra spending money, or to fulfill the ultimate dream of financial freedom and a Luxury Lifestyle, My Pure Pleasure is there to provide the continual training and support needed for their journey.
As Consultants across the nation share the My Pure Pleasure Mission and Vision, the company will continue to experience steady and rapid growth, thus empowering and transforming the lives of all those they touch.