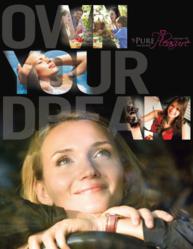 Start Living the Life YOU Deserve
Wexford, PA (PRWEB) July 19, 2012
With summer already half-over, many families are starting to think about their fall expenses with their children heading back to school and the holidays that will be quickly approaching. To meet those expenses, many women are looking for a way to add to their income. My Pure Pleasure makes it easy for those looking to earn extra money or become a full-time entrepreneur.
With the technology of today, new products and new sex toy designs are constantly being introduced to the consumer. My Pure Pleasure knows how important it is to keep up with their Customer demands, which is why they periodically redesign their Presentation Kits. With magazine articles and television advertising making pleasure products more mainstream than ever before, My Pure Pleasure takes pride in making sure their Customers are able to purchase the latest and greatest items on the market.
With the debut of their new Presentation Kits, My Pure Pleasure is pleased to offer them at 20% off and as an added benefit; they are also waiving their standard activation period until August 31, 2012. Upon sign-up, the new Consultant will immediately become an Active Consultant and qualify for all of the great benefits offered by My Pure Pleasure.
My Pure Pleasure offers 5 Presentation Kits for new Consultants ranging from $99 to $1,000. With their wide price range, My Pure Pleasure has Kits to suit most any budget. For those looking to start their own business and need an affordable solution, the My Pure Pleasure Business Starter Kit for only $99 plus tax and shipping is an excellent option.
All My Pure Pleasure Starter Kits are an amazing value and include everything that is needed for the Consultant to begin holding parties right away. The demonstration products in each Kit are a variety of the top-selling items at My Pure Pleasure and are discounted at over 60%.
Each Kit also includes over $50 in marketing materials and business supplies to help the Consultant launch and grow their business. In addition to the products in each Kit for display and sampling, select Kits contain products for the Consultant to sell to impulse buyers at their parties which helps them to generate immediate income.
Tammy J. Gellner, Founder and President of My Pure Pleasure states "No matter which Kit you choose, you will have taken the first step to living your life by design, not by default. With our exciting and financially rewarding incentives, it is up to you to decide how much you want to earn. As the Founder and President, I am here to welcome you to the My Pure Pleasure Family and to support you every step of the way along your journey."
About My Pure Pleasure
"Our ultimate goal is to increase confidence, self-esteem, and sexual awareness in women, men, and couples through our in-home parties which are designed to Empower, Entertain, and Educate."
Founded in 2010 by Tammy J. Gellner, My Pure Pleasure is quickly becoming one of the nation's leading direct sales companies specializing in romance enhancement products. Through their unique in-home party format, independent sales Consultants provide tasteful presentations of the finest in bath, body, and bedroom accessories. With an extensive selection of over 1,000 items, My Pure Pleasure offers something for everyone and ensures that each item is body safe and female friendly.
My Pure Pleasure Consultants have the unique opportunity to own and manage their own business and prosper from unlimited income. Offering an innovative compensation plan, financially rewarding incentives, free company paid hostess rewards and more, My Pure Pleasure empowers each of their Consultants to live an extraordinary life, both personally and professionally and helps them to design their own "ideal life".
Whether their business serves as a means to provide for their family, a way to spend more time at home, a little extra spending money, or to fulfill the ultimate dream of financial freedom and a luxury lifestyle, My Pure Pleasure is there to provide the continual training and support needed for their journey.
As Consultants across the nation share the My Pure Pleasure Mission and Vision, the company will continue to experience steady and rapid growth, thus empowering and transforming the lives of all those they touch.