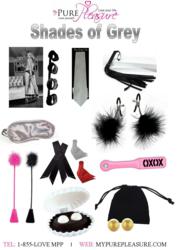 Start Living the Life YOU Deserve!
Wexford, PA (PRWEB) September 27, 2012
My Pure Pleasure is proud to announce their Shades of Grey collection is now available in addition to their already large selection of bondage items and sex toys. In the past, many of the items that were only available in black and pink, and now offered in grey. In-home parties allow guests to purchase these products in the comfort and safety of their own homes in addition to internet purchases at http://www.MyPurePleasure.com
Tammy J. Gellner, Founder and President of My Pure Pleasure states "our My Pure Pleasure in-home partygoers have been enjoying our large selection of bondage items well before the 50 Shades of Grey phenomenon began. It has always been our mission to offer our customers the ability to purchase items from spa-quality bath and body items for everyday use to bondage and bedroom accessories to live out their wildest fantasy."
In a recent interview, Tammy was asked why My Pure Pleasure has always carried a large selection of bondage items and her reply was simple, "because people wanted and enjoyed them". The main difference now with bondage items is even the most conservative customers are enjoying the many pleasures of bondage and fantasy play.
Blindfolds, feather ticklers, satin ties, crops, and other light bondage items have always been popular sellers due to the excitement they can add to a relationship. For example, when a person is wearing a blindfold, their other senses become heightened allowing them to focus their attention on their partners touch.
My Pure Pleasure Consultant Amy Schneider of Menomonee Falls, Wisconsin has been providing in-home romance-enhancement parties for over 8 years. When asked what has changed with her parties since the 50 Shades of Grey trilogy was published, she replied "I think now woman feel they have the permission to buy and use the items, where before they felt a little embarrassed about having bondage fantasies."
With the holidays quickly approaching, many women are looking for not only ways to spice up their relationship, but also a way to add to their income to help with household and holiday expenses. My Pure Pleasure makes it easy for those looking to earn extra money or become a full-time entrepreneur.
In addition to the income, today, more and more women are looking for an alternative to the corporate world. They are tired of trying to juggle the impossible demands of long work days and family life. Having a career they can pursue from home, not only makes their life easier, but also allows them to spend quality time with their family.
My Pure Pleasure helps to make fantasies become reality from the bedroom to the boardroom. Customers and Consultants both enjoy the benefits and support of a national company. "You will be in business for yourself, but never by yourself."
About My Pure Pleasure
"Our ultimate goal is to increase confidence, self-esteem, and sexual awareness in women, men, and couples through our in-home parties which are designed to Empower, Entertain, and Educate."
Founded in 2010 by Tammy J. Gellner, My Pure Pleasure is quickly becoming one of the nation's leading direct sales companies specializing in romance enhancement products. Through their unique in-home party format, independent sales Consultants provide tasteful presentations of the finest in bath, body, and bedroom accessories. With an extensive selection of over 1,200 items, My Pure Pleasure offers something for everyone and ensures that each item is body safe and female friendly.
My Pure Pleasure Consultants have the unique opportunity to own and manage their own business and prosper from unlimited income. Offering an innovative compensation plan, financially rewarding incentives, free company paid hostess rewards and more, My Pure Pleasure empowers each of their Consultants to live an extraordinary life, both personally and professionally and helps them to design their own "ideal life".
Whether their business serves as a means to provide for their family, a way to spend more time at home, a little extra spending money, or to fulfill the ultimate dream of financial freedom and a luxury lifestyle, My Pure Pleasure is there to provide the continual training and support needed for their journey.
As Consultants across the nation share the My Pure Pleasure Mission and Vision, the company will continue to experience steady and rapid growth, thus empowering and transforming the lives of all those they touch.