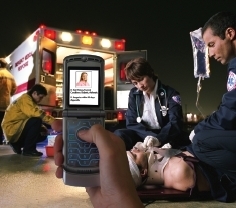 Does your phone have ESP?
Marina Del Rey, CA (PRWEB) December 19, 2007
MyRapidMD™ Corp: http://www.myrapidmd.com (the company or MRMD), the developer of the Emergency Service Profile or ESP V2.0 for cell phones, a medical alert service, is pleased to announce the appointment of District Chief Richard Cole to the position of Chairman of the MyRapidMD™ Emergency Services Advisory Board (ESAB).
"We're extremely excited Chief Cole has agreed to join MyRapidMD's ESAB as Chairman. With Chief Cole's addition, the ESAB and its members now contribute over 100 years of first response/emergency service and safety experience. The ESAB is made up of members with both domestic and international experience and provides us with a global perspective on safety and emergency information standards as we continually improve the ESP medical alert service for cell phones. If you couple this appointment with being awarded a top pick honor as one of the top products for 2007 at the National EMS Expo in Orlando, I feel confident in saying the emergency services industry has embraced ESP as a valuable emergency information tool for all cell phone owners," said Mark White Chairman & President of MyRapidMD.
Chief Cole has a long and distinguished career in law enforcement and the fire service as a firefighter, paramedic and instructor. Chief Cole was a recipient of the Firefighter of The Year award in 2006 and Heroes Award in 2007 for the city of Houston. He currently serves as a District Chief for the City of Houston, one of America's largest cities.
"To join a team with such tremendous knowledge and experience of the first response and emergency services profession is quite frankly an honor. This team has a wealth of global experience in all facets of emergency services in numerous countries. They also all have distinguished and long careers as firefighters, paramedics, emergency room nurses, military medics and/or instructors in emergency services. If you have ESP on your phone, then you should have complete comfort in knowing that the information in your ESP, on your phone, is what we want to know if we need to look after you in your time of need. Without ESP, we have to treat you the same as everyone else until your information arrives, and that may be to late," said Chief Cole.
Chief Cole went on to say; "without a doubt, ESP will save lives and allow us, as first responders, to do our job better, more efficiently, and effectively. Time and information are critical in an emergency or accident. That we can get a person's critical emergency medical and contact information as well as a photo of them immediately using ESP on someone's cell phone, at the scene, without third party involvement, puts ESP in a class of its own as a practical emergency medical alert tool.
Identifying a person's home hospital is a major benefit in not only treatment of the patient but also in the reduction of health care and emergency care costs. Delivering a patient to a hospital with more immediate information about the patient can only result in better health care, reduced costs and a better patient experience. ESP allows us to deliver victims or patients to the ER with better information allowing the emergency room to better determine what treatments are actually necessary."
I speak on behalf of the ESAB when I say ESP should be on all cell phones, it makes too much sense.
At MyRapidMD we believe your phone should do more than text, talk and entertain, we believe it should care.
"Does your phone have ESP?"™
Privately held MyRapidMD is the developer of the Emergency Service Profile (ESP) proprietary software application. Designed specifically for cell phones and smart phones, the ESP medical alert service provides a concise Emergency Service Profile based on an internationally recognized victim assessment protocol used by first responders. MyRapidMD has formatted this protocol into a medical alert mobile software application that also attaches a photo of the cell phone owner to confirm their identity in emergency or accident situations. ESP is easily retrieved and displayed by first responders on the victim's cell phone at the emergency or accident scene. Developed in concert with Firefighters, Paramedics, Emergency Room Nurses and other first responders, MyRapidMD's ESP turns the cell phone into an efficient and effective emergency information tool at the emergency scene and while the patient/victim is in transit to the ER.
For more information please visit: http://www.myrapidmd.com or contact us at:
Mark White
1-877 GET MRMD (943 8676) ex 114
###