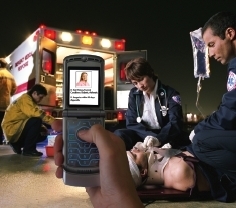 Does your phone have ESP?
Marina Del Rey, California (PRWEB) January 28, 2008
MyRapidMD has been invited to attend the CDMS conference sponsored by FEMA Region IX and the American Red Cross. As an invite only event the uniqueness of a CDMS conference is its size. CDMS provides a very unique and hands on environment for its attendees to meet with a very limited number of private companies. These companies not only have the opportunity to attend the training and information sessions on disaster management but can also demonstrate and display their solutions in the aid of disaster management to some of the top government and disaster management agency heads for the western region of the United States.
The list of attendees includes: the Division Director for FEMA region IX, Emergency Management Coordinators, Chief Information officers, Chief Technology Officers, State Chief Information Officers, First Responders at Federal, State & Local levels. Also included are the Fire Chiefs & Emergency Management Directors from many of the largest west coast cities including San Francisco, Sacramento, San Diego, San Jose, Las Vegas and Los Angeles.
"Strangely enough we were informed of MyRapidMD's unique personal medical alert service by a company involved in a completely different field of emergency management. What is unusual about that is companies seeking to receive an invitation to this type of select event are generally only interested in looking out for themselves, so when MyRapidMD received a recommendation from a total stranger so to speak, we had to take a look. We are of course glad we did as it resulted in MyRapidMD receiving one of 12 invitations issued to private companies for such events," said Mr. Seth Thorpe, Executive Director of Governmental Affairs for Garnish Events, organizer of CDMS.
"We are of course happy to receive the invitation and grateful for the recognition our Emergency Service Profile (ESP) is receiving from the first response community as a valuable personal medical alert solution. We look forward to participating in the event and demonstrating the ease, cost effectiveness and simple ability to improve information at the scene of a medical emergency by having ESP on your cell phone. We believe ESP is an absolute necessity for all cell phones," said Mark White President & Founder.
At MyRapidMD we believe your phone should do more than text, talk and entertain, we believe it should care™.
"Does your phone have ESP?"™
Privately held MyRapidMD is the developer of the Emergency Service Profile (ESP) proprietary software application. Designed specifically for cell phones and smart phones, the ESP medical alert service provides a concise Emergency Service Profile based on an internationally recognized victim assessment protocol used by first responders. MyRapidMD has formatted this protocol into a medical alert mobile software application that also attaches a photo of the cell phone owner to confirm their identity in emergency or accident situations. ESP is easily retrieved and displayed by first responders on the victim's cell phone at the emergency or accident scene. Developed in concert with Firefighters, Paramedics, Emergency Room Nurses and other first responders, MyRapidMD's ESP turns the cell phone into an efficient and effective emergency information tool at the emergency scene and while the patient/victim is in transit to the ER.
For more information please visit: http://www.myrapidmd.com
###