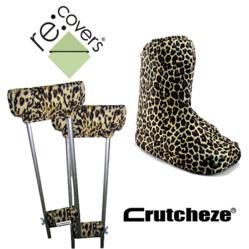 Improving the recovery experience is the core of what we do … one-stop-shopping is a win-win for our customers
Natick, MA & Broomfield, CO (PRWEB) January 15, 2013
re:covers®, the leading manufacturer of protective and fashionable walking boot covers, arm cast covers and brace covers, and Crutcheze®, the leading manufacturer and online retailer of innovative crutch and walker accessories, today announced a strategic business alliance extending both companies' lines of orthopedic rehabilitation and mobility aids. Products from the two companies are now available online at both http://www.myrecovers.com and http://www.crutcheze.com
Crutcheze's crutch covers, crutch pads and crutch bags complements re:covers line of orthopedic gear including walking boot covers, decorative cast covers (cast sleeves), Dry Pro waterproof cast protectors, CastCooler and cast accessories, offering patients one-stop-shopping for orthopedic rehabilitation and mobility accessories.
"Patients are looking to solve the issues they encounter throughout their recovery, whether it's preventing raw skin and scrapes from their boot or cast, sore armpits from crutches, or preventing cold and moisture from seeping into the cast," said Kelly Marchetti, re:covers Founder and Owner, "Or, they may want to add a sense of style and fashion to unattractive orthopedic devices. Now they can find both kinds of solutions in one place." Added Marchetti, "We are always looking to find ways to add value for our customers. Partnering with a company like Crutcheze is a natural fit, not only with their products, but more importantly, in terms of their integrity, maintaining a sharp focus on innovation, manufacturing products in the United States, and living the philosophy that meeting and exceeding customer needs is at the heart of what we do."
Amy Vicioso, Crutcheze Founder and Owner, noted "We recommend re:covers products to our customers who are looking for quality orthopedic covers because their team provides the same high quality service and care we strive to provide our customers. Both companies focus on the customer perspective, from product concept through testing and pre- and post-shopping experience. Our new alliance eliminates jumping from one site to another to purchase products while providing seamless customer service, shipping and support." Vicioso added, "When someone is injured and in the midst of the recovery process, streamlined purchasing, customer support, and consolidated shipping eliminates obstacles and enable patients to resume daily activities, in comfort and style, that much more quickly. It's a win-win for our customers."
###
About re:covers®:
re:covers products deliver solutions for practical concerns and emotional setbacks that can arise during recovery. re:covers, LLC, based in Natick, MA, is an orthopedic cover manufacturer that designs and produces the highest quality selection in walking boot gear, brace and cast covers, and decorative cast accessories. re:covers products fit multiple orthopedic devices from manufacturers like DonJoy®, Aircast®, Breg®, Össur®, Bledsoe® and Ottobock® All covers are proudly made in the U.S.A. re:covers products, accessories, Dry Pro® waterproof cast covers, CastCooler®, and Crutcheze® products are currently available directly at http://www.myrecovers.com or at select orthopedic offices, sports medicine clinics, and durable medical goods suppliers.
About Crutcheze®:
Crutcheze is the flagship brand of Zoetic Technologies, a leading manufacturer and online dealer of innovative crutch and walker accessories located in Broomfield, Colorado. In business since 2003, Crutcheze manufactures and sells durable medical equipment accessory products considered to be exceptionally comfortable and stylish at an affordable price. Crutcheze uses the most innovative materials, technology and designs to produce their high quality products, which are designed by health care professionals and tested by independent testers to ensure the highest standards, resulting in thousands of satisfied customers around the world. For more visit http://www.crutcheze.com