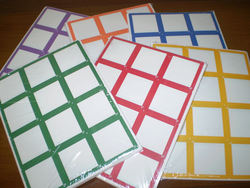 Target prospects on any one of a hundred different items, from catalogs to take home containers to shopping bags. When peeled by the recipient, the removable sticker can be reapplied to any surface as 'easy to see' reminder.
Grand Rapids, MI (PRWEB) March 22, 2011
What do "do-it-yourselfers" and marketing have in common? Just as homeowners have taken charge of making improvements to their homes, many small businesses and entrepreneurs are taking change of their own marketing, creating and distributing the tools that will get their company noticed.
And while social media and e-mail marketing are all the rage, there is still something to be said for keeping it simple with basic marketing methods.
Now DIY has come to message marketing with the latest product release from Promotions That Stick Corporation - My Removable Stickers: a fast, efficient and professional way to easily create colorful sticker messages.
Unique Communications Tool
My Removable Stickers differ from traditional repositionable stickers or plain white tags. Unlike other self-adhesive stickers, My Removable Stickers were specifically created to be used with a laser or inkjet printer for a clean, professional appearance.
When adhered to any carrier device, such as a newsletter, envelope, postcard, container, shopping bag, etc., My Removable Stickers can serve as reminders, coupons, and other advertising devices. Then, My Removable Stickers can be peeled off and reapplied to nearly any surface, including paper, glass, metal, plastic and fabric. They stick without magnets, and leave no sticky residue behind.

Design includes a unique negative adhesive at the bottom of the sticker for easier removal.
Pre-printed "Peel & Restick" tab encourages reuse by recipient.
Eye-catching 2-1/2" x 2-1/2" size provides plenty of room for messaging.
Downloadable free template makes designing and printing sheets of stickers a snap.
Carol Passero, Vice President, Marketing, states why My Removable Stickers were created. "These unique removable stickers don't get buried in text message or email inboxes. Recipients don't have to go out and find the message—the message comes to them. My Removable Stickers allow marketers to target prospects on any one of a hundred different items, from catalogs to take home containers to shopping bags. Once in the hands of the customer, they are easily peeled and moved to a prominent place in a home or office where the message recipient is much more likely to see them and take action in a timely manner."
Meeting a Need for Low-Cost Marketing
My Removable Stickers are ideal for entrepreneurs, small businesses, schools, churches and non-profit organizations that don't have the budget for costly marketing campaigns nor for the design and production expenses involved.
•A minimum $14.95 order for 10 sheets with 12 stickers per sheet, unlike others that require 100 sheet or 1,000 sticker minimum purchases.
•Customers can choose from six eye-catching colored borders to make their message pop.
•Uses can print any quantity of customized stickers—from as few as a sheet of 12 to hundreds. There is no need to place a minimum order for customized labels and watch dated, unused stickers go to waste.
•My Removable Stickers make it simple to test marketing messages. Print a small quantity of stickers. Test the offer. If the offer doesn't work well—change the message and try again.
With My Removable Stickers, users can also customize packaging in a snap. They stick easily on to-go boxes, take-home containers, or bakery bags. Customize with a logo, space for the date, even room for the customer to write his or her name, and there's no question regarding freshness or who owns that moo shu pork!
My Removable Stickers are printed in the USA and marketed by Promotions That Stick Corporation of Grand Rapids, Michigan. They can be ordered online at http://www.myremovablestickers.com.
# # #