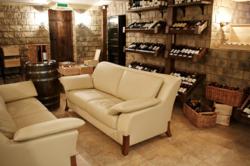 (PRWEB) April 22, 2011
MyReviewsNow in cooperation with "Wine Racks America" announces a great online catalog and resource for wine collectors and enthusiasts. Wine Racks America provides a helpful resource offering wine collectors many options in the storage of their wine inventory. Wine Racks of America's product lines include: wine refrigerators, wine racks, and wine cellar equipment. Most importantly Wine Racks America provides its customers with the technical support in the design and building of their wine cellar or display grid.
Wine Racks America, Inc. based in North Salt Lake, Utah, manufactures the highest quality redwood and pine storage bins and features advertisements in the "Wine Spectator" magazine. Wine Racks America maintains affiliation with the Home Builder's Association of Utah as well as the National Association of Home Builders. Wine Racks America takes care of all its customers storage and display requirements whether simple display or the design of a complex wine cellar. MyReviewsNow is proud to introduce a fine leader in the wine storage and display industry. With over 48,000 customers and superb technical and sales support, Wine Racks America maintains an "A+" rating with the Better Business Bureau proving its appreciation and dedication to product and service.
Visit Wine Racks America Today!
###