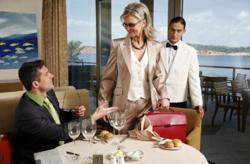 "This website has been a great help in locating a waiter for a position that we had open. I really liked the fact that I didn't need to interview those who weren't qualified for the job."
(PRWEB) May 04, 2011
Now there's no need to wait to find a job!
This innovative hiring website is designed just for the restaurant industry. It links restaurant managers who want to hire with bartenders, waiters, and hosts who are looking for work. Plus, the website is nationwide.
It's easy to begin the process by registering on the website at Waiting2Work.com. Restaurant workers can create a profile for free in about a minute. Simply download a recent photo, resume, and work criteria. Then you can search for restaurants in your area who are hiring.
Restaurants who want to hire can use the website in two ways. They can register in about a minute by creating a free profile, or they can just post their job and let those searching for work come to them.
Waiting2Work.com can also be used as an extension of the restaurant or restaurant chain's HR Department.
Finding workers is simple and there is no need to wait to find the right person. With the profiles on the website, restaurant managers can screen applicants within a few minutes. There's no need to waste time with applicants who don't have the experience or qualifications that you're looking for.
The site's home page is extremely easy to use for fast results. Workers who want employment simply enter their zip code and jobs in their city or area will appear. They can look through them to find to find a restaurant that they're interested in working at.
One waiter who was recently hired by a restaurant in his city that he found on Waiting2Work.com said, "This is definitely the fastest time that I have found a new job ever. All I needed to do was look on the website and I could see what was available. When I saw that my new employer was hiring, I sent them a message, went on an interview and was hired that day."
Employers are also finding that using the service is definitely a time saver. A restaurant manager in St. Louis said, "This website has been a great help in locating a waiter for a position that we had open. I really liked the fact that I didn't need to interview those who weren't qualified for the job."
Waiting2Work.com has opened a new realm of finding restaurant jobs for waiters, bartenders, and hosts.
###