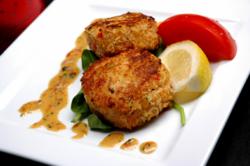 "I grew up in Baltimore and then moved to Florida. There are no crab cakes like Angelina's, and I am so glad that they are shipping orders to my home. They are the best!"
(PRWEB) May 05, 2011
MyReviewsNow in conjunction with Angelina's of Maryland is excited to announce the availability of their famous crabcakes and soups for delivery to your home. Now, in addition to Angelina's original cakes, New All Natural Crab Cakes are also available for delivery.
New All Natural Crab Cakes have recently been added to Angelina's list of products. Made with simple break crumbs, organic eggs, seasonings which include sea salt, and a less modified mayo, the All Natural Crab Cakes also feature huge lumps of real, domestic blue crab. There is no cornstarch, no preservatives, nothing artificial, no high-fructose corn syrup, and no MSG in this all natural product from the sea.
All Natural cakes are available in three sizes of one-half pound, four ounces, and mini cake size. The cakes arrive at your home uncooked, and if they are frozen, simply thaw them out. They can then be cooked in several ways by baking in a convention oven, in the microwave, or they can be sautéed in butter.
The Restaurant Original Crab Cakes The very same recipe that has been made since 1952 at Angelina's Restaurant has been passed down through generations. Hand-made cakes are made in Baltimore with 100% domestic jumbo-lump blue crab meat from local sources.
Angelina's owner said, "We offer the best cakes because we use only the top quality items, and we only add enough other ingredients to hold the crab together. The main part of our cakes is definitely lumps of blue crab."
Sold in one-half pound, four ounce, and mini size, the Original Crab Cakes have received rave reviews for many years. They have also been given multiple awards for their taste and the quality of ingredients in them.
One customer stated, "I grew up in Baltimore and then moved to Florida. There are no crab cakes like Angelina's, and I am so glad that they are shipping orders to my home. They are the best!"
Angelina's is now also offering New Seafood Specialties. These are Salmon en Croute, Lobster Mac & Cheese, and Sesame Teriyaki Salmon, and they are also available for delivery.
In addition, Angelina's features two premium crab soups. Maryland Crab Soup is spicy and full of crab and vegetables. Cream of Crab soup is made with real cream and lumps of crab. Both soups are sold frozen in eight ounce pouches.
Fresh delivery of Angelina's crab cakes is available on Fridays with overnight service.
Visit Angelina's Today For The Finest In Blue Crab
# # #