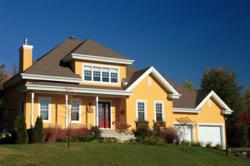 "We read a lot of the literature on the website and decided that buying a foreclosed home was the right thing for us. Realty Trac's realtor was there with us all of the way. We couldn't be happier in our new home!"
(PRWEB) May 15, 2011
MyReviewsNow is excited to announce their affiliation with Realty Trac. This company can connect interested buyers with short sales or foreclosures, which can make home ownership a reality for these buyers. Foreclosed homes usually sell for 25 percent to 50 percent less than their market value, and this means getting a better home for less money.
The website features easy to use maps and online information to help customers browse for homes available in the area where they would like to buy. They have 1.5 million homes available on their site (http://www.realtytrac.com/).
A company spokesperson said, "We have listings in over 2,000 counties in the United States, and there are great home buys for anyone who wants to get a good house at a greatly reduced price. We match buyers and homes, and we are good at our specialty."
By joining their website, members are able to find homes that are in default, auctions, and those that are bank-owned. Specialized realtors who are trained in this aspect of real estate can take a prospective buyer's offer to the owner or bank. More than 3 million visitors use this website each month.
Realty Trac features MLS-listed foreclosures with photos and details about the home, including square feet, number of bedrooms and baths, and more. They provide addresses and other helpful information such as how much it will cost to restore a property that is in foreclosure.
Another helpful feature of Realty Trac is the chart that lists up to date interest rates and what payments would be for 30 years 15 years, and for an ARM. This information, along with the other features available on Realty Trac's website make it easy to buy foreclosures and to know exactly how much it will cost to do.
One of the most helpful features on the website is Realty Trac's Home Score. This score reflects the home's investment quality. On a scale of 1 to 100, 50 is the national average. These rates allow buyers to know if the home they are looking at is a poor, fair, good, very good, or excellent investment opportunity. Homes with high scores are the best investment, while low scores may be fair or poor ones.
Realty Trac is much more than a realty company that deals with foreclosures. Their website offers investment advice and information, such as explanations of home prices, how to buy foreclosures, and how to avoid foreclosure. There are helpful blogs that explain every aspect of buying a foreclosure and articles that deal with many different related topics. There is even an eBook on home repair costs that can be downloaded. All of these topics are important to the buyer who needs to know exactly how much it will cost to make appropriate repairs.
One new homeowner who purchased a foreclosed home through Realty Trac had nothing but positive comments about the website. She said, "We read a lot of the literature on the website and decided that buying a foreclosed home was the right thing for us. Realty Trac's realtor was there with us all of the way. We couldn't be happier in our new home!"Take Advantage Of The Current "Buyer's Market" By Utilizing Realty Trac Today!
###