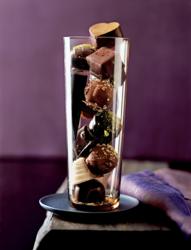 (PRWEB) May 29, 2011
MyReviewsNow.net is excited to announce its affiliation with Astor Chocolate. The Astor company has been selling fine chocolates for over 60 years, and they have some of the best chocolate available anywhere.The company is a family-owned business that is committed to making the finest chocolates. They also offer exceptional customer service. Today, the same standards are held as they were years ago.
The company's website is organized in a way to make shopping for gifts especially easy because of the gift categories. There are categories for birthday gifts, anniversary gifts, congratulations, commencements, Father's Day, and other holiday selections, plus special collections. Chocolate greeting cards are also offered, made of the fine chocolates. Selections include birthday greetings, love letters, congratulations, and seasonal greetings, get well soon cards, and thank you cards. Inside each greeting card is an embossed chocolate gift box that contains 5.5 ounces of fine chocolate.
Dark chocolate is another specialty of the company. A customer who recently purchased dark chocolates from Astor Chocolate said, "My husband and I are going to try all of the dark chocolate bars. They are the absolute best chocolate that we have ever had. We especially love the Dark Chocolate Raspberry Bars." A few of Astor's dark chocolate offerings include Signature Bars available in Pomegranate, Lemon Peel, and Almond.
Truffles are another specialty of this online chocolates company. Both larger boxes of truffles in a variety of unique flavors are sold, as well as tiny boxes containing one or two individually wrapped truffles. One recently married woman said, "We placed small boxes of Astor Chocolate truffles at each place at our reception tables, and our guests raved about the great chocolate! A lot of our guests asked us where the chocolate came from."Astor Chocolate has many other chocolates favors and gifts that are just right for wedding receptions, anniversary parties, showers, and other special occasions.
The Astor company is also an innovator in chocolate creativity. Among those unique offerings are the Chocolate Chess Set and the Solid Brass Chocolate Liqueur Cup Tree. Astor Chocolate also features its " Tour USA With Astor Chocolate" which showcase a special twist for various U.S. cities and states.
Any chocolate lover must visit Astor's website to truly appreciate all that the Astor Family has to offer from the finest in exquisite chocolates to the best in learning resources regarding the chocolate industry and the history of chocolate.
Visit Astor Today For The Finest In Chocolate!
# # #