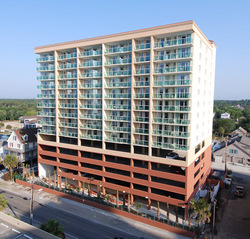 Malibu Pointe is one of the most popular condos in the area, and for good reason
Myrtle Beach, SC (PRWEB) February 10, 2009
With the recent hit to the economy, the prices of real estate have dramatically dropped all over the country. Myrtle Beach, SC is no different. This newly constructed Myrtle Beach condo known as Malibu Pointe has reached a foreclosure point, meaning simply that investors are gobbling up these oceanview condo units quickly to make a hefty return on their purchase.
Myrtle Beach condos have always been a strong source of income for property owners, whether it's for investment and resale, or buy-to-rent opportunities. Malibu Pointe has one of the best repeat rental consistencies in the North Myrtle Beach area, according to CondoLux Real Estate.
Even though the economy may be struggling, CondoLux has already sold millions of dollars of oceanfront and oceanview real estate for 2009. And with the addition of the 15 sale contracts for Malibu Pointe, that number is steadily on the rise.
"We have already sold 17 out of the remaining 34 at record prices," said Martin Brown, Condolux operating manager. "This goes to show you that this is one of the best condo deals in town at the moment."
Malibu Pointe is considered one of the finest and most popular Myrtle Beach vacation rentals. Newly built in 2007, this resort is located in the quieter, more upscale city of North Myrtle Beach, within close walking distance to the ocean. Malibu Pointe boasts full amenities like a large outdoor swimming pool, indoor pool, lazy river, and even a children's swimming pool. Hot tubs and a game room help to round out the list of outdoor amenities.
The luxury continues inside the resort. One, three, and four bedroom ocean view units are available, with cultured marble garden tubs, granite counter tops in the kitchen and bathroom, and a Jacuzzi tub in the master bath--features few other condos can claim.
Malibu one-bedroom units, which sold at presale in 2007 for $299,900, are now selling for $150,000 through CondoLux. Three-bedrooms which were $550,000 are going for $295,000; four bedrooms from $689,900 to $349,900. To top it off, these units are fully furnished and ready for rental as well. At these prices, many owners are directly contracting companies for Myrtle Beach rentals in these units.
"Malibu Pointe is one of the most popular condos in the area, and for good reason," Brown said. "The amenities it has for the price just tops every other condo down here. And now that these sale prices are 50 percent off presale, investors aren't even having a second thought about a purchase."
The Myrtle Beach area is a favorite choice among investors due to its enduring value as an oceanfront tourist destination. The area is always growing, with new businesses being constantly attracted by the millions of yearly visitors and rapidly expanding residential population. Local Myrtle Beach real estate companies report that commercial development is still steady in the Grand Strand area despite the market slowdown. Those choosing to live in the area will find an abundance of attractions, shops, entertainment, dining, and golf destinations.
For those looking for another revenue stream, Malibu Pointe is a smart choice for rental income. This condo is always popular with renters, especially long-term renters and golfers. CondoLux's Myrtle Beach property management division can help buyers get the most out of their investment with maximum exposure and the expertise of over twenty years in the rental industry. CondoLux advertises the properties on its program through its extensive online presence, print campaigns, and email advertisements.
For more information on Malibu Pointe, visit malibupointe.com or contact Condolux at 800-624-6418.
###