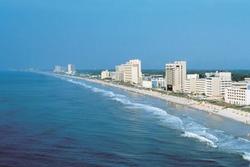 While the cost of getting away has increased, it doesn't mean consumers have to forgo a little time off
Myrtle Beach, SC (PRWEB) July 2, 2008
In the midst of an economic crunch, more Americans are finding it harder to afford the luxury of a vacation. "While the cost of getting away has increased, it doesn't mean consumers have to forgo a little time off". With the right planning and money saving techniques, this summer can still be one to enjoy.
A popular destination for many vacationers is Myrtle Beach. Situated on the coast of South Carolina, more than 10 million tourists flock to the area to enjoy its amusement parks, aquarium, ocean, restaurants and plush Myrtle Beach oceanfront hotels. It's no wonder Priceline.com recently named this a hot spot in its top 50 vacation destinations for the Fourth of July weekend.
According to AAA Carolinas' Myrtle Beach General Manager, Sandra Horton, vacationers can save money by being smart about flying. Horton recommends utilizing a travel agent and comparing airlines for the best ticket price. Horton also said consumers who pack lightly can avoid the expense of checking a bag for a fee. In addition, those who are not particular about seating and opt to fly in a seat not situated by a window can avoid a convenience fee. Travelers who request to sit at the front of the plan may also be subject to a special fee. Lastly, Horton said the best days to fly are Tuesdays, Wednesdays and Saturdays because the demand for tickets on these days can sometimes help to lower fares.
"Another way to vacation smart is to utilize local Myrtle Beach resources that assist with finding the perfect hotel". Myrtle Beach Hotels provides consumers with reviews of numerous Myrtle Beach accommodations. Vacationers can access everything from amenities, reviews by past guests and price ranges, allowing them to choose the hotel that is most economically friendly to their vacationing needs.
To learn more about saving money while vacationing, visit MyrtleBeachHotelCondo.com.
Myrtle Beach Hotels and Condos feature just the facts on Oceanfront Myrtle Beach Hotels and off the ocean Myrtle Beach Hotels. Our rating area includes: Oak Island, Ocean Isle Beach, North Myrtle Beach, Myrtle Beach, Garden City, and Pawleys Island Hotels with property reviews by our staff coupled with direct links to customer written hotel reviews. Myrtle Beach Hotels and Condos links directly to customer rated evaluations of all area Myrtle Beach Hotels. Our local team also evaluates the general neighborhood of every Myrtle Beach Hotel listed. Get inside information on how individual hotels are structured with ownership and who makes up the clientèle staying at different Myrtle Beach Hotels.
###