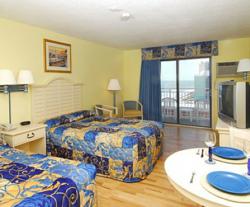 Sea Mist is quite simply "…Like No Other."
Myrtle Beach, SC (PRWEB) December 01, 2011
Myrtle Beach's Sea Mist Oceanfront Resort announced today the release of their newly established rates for family vacations in 2012 and an Early Reserve Bonus opportunity. If guests are planning to vacation in June, July, or August 2012, make reservations by April 30th, 2012 and receive an $80E-Z Cash Card.
Nationally known for affordable family fun, this Myrtle Beach resort provides what is quite possibly America's best buy in affordable family vacations. This 15-acre property has been in business for over 50 years and features exceptional deals with discounted hotel accommodations and discount packages for families. Sea Mist is considered Myrtle Beach's top family resort and features the largest collections of resort amenities found on the eastern seaboard for both children and adults.
Conveniently located in the heart of Myrtle Beach near all the popular Myrtle Beach attractions and amusements, Sea Mist is also only 2.5 miles for the Myrtle Beach International Airport.
What makes Sea Mist so different? It is the one and only Myrtle Beach Resort that has managed to simplify the family vacation experience. When visiting Sea Mist, there is so much to do right on property, guests never have to stress about what to do next. Guests are guaranteed never to get bored, and it is all within walking distance so they never have to travel far. It's a series of discoveries on every corner as guests stroll around the grounds, including but not limited to the largest resort Water Park and Arcade in the Myrtle Beach area. Sea Mist is casual, friendly and on the beach. It's laid back atmosphere provides a relaxed environment the whole family will enjoy every single day…. and it is all available at one incredibly affordable price.
Sea Mist Resort Attractions: This resort could be considered a Myrtle Beach attraction all by itself for it is home of the largest collection of amenities in the area from Water Parks and pools to arcade, restaurants and more. No other Myrtle Beach hotel can claim the fame of such unique diversity and affordability. From fun on the water to fun on the land with great places to eat on every corner, Sea Mist is quite simply "…Like No Other."
About the Myrtle Beach Resort's Family Value Packages: There is no vacation package in America available at such a great rate for the entire family. Bundled with fun and adventure to be enjoyed at your leisure, there is no schedule to follow, and no daily agenda. Once guests step outside their room, the fun just pulls them in. This special package available June - August, with similar options in April, May, and September.
About Sea Mist Resort
Since 1954, Sea Mist resort has evolved to feature over 15 acres of amenities and attractions perfect for a family-friendly adventure. Ideally located on the popular Ocean Boulevard, Sea Mist has oceanfront, oceanside and water park view accommodations to suit the needs of all of its guests. For more information, visit http://www.myrtlebeachseamist.com.
###