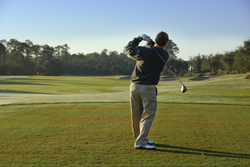 North Myrtle Beach, SC (PRWEB) September 19, 2009
Myrtle Beach golf attracts thousands of visitors every year, some professionals, some occasional players, and everything in between. Those who hit the greens regularly though can start to notice a trend between the courses and the men who designed them. Each architect has his own signature he applies to the course, and NorthMyrtleBeachGolf.com did some digging to find out what makes each course tick. NorthMyrtleBeachGolf.com specializes in luxury Myrtle Beach golf packages with oceanfront condos and beach homes.
There are about 40 different golf course architects who have worked on courses along the Grand Strand (the Myrtle Beach, SC area). Some have quite a few under their belt, such as Clyde Johnston, who designed 5 Myrtle Beach golf courses. Others, like Robert Trent Jones, who designed over 500 courses in 35 counties, only designed one in Myrtle Beach, The Dune's Club.
Users can view the golf course architects on the NorthMyrtleBeachGolf.com website by clicking on Craig's Corner (the North Myrtle Beach Golf blog), and then Golf Course Architects on the right.
"We wanted to provide something a bit different to read," said Craig Chinn, golf director at NorthMyrtleBeachGolf.com. "These architects are what made the golf in Myrtle Beach what it is today, so we decided to give them a little recognition besides just their name beside the course description."
Myrtle Beach has over 100 golf courses to choose from, and is home to 10 of the 'Top 100 Golf Courses You Can Play' according to Golf Digest magazine. It is nicknamed the 'Golf Capital of the World,' not just because the of amount of courses, but because of the quality from the architects, both past and present. Some courses were designed years ago by Robert Trent Jones, Dan Maples and Willard Byrd, and still live up to their name today. Other courses from current architects like Jack Nicklaus, Pete Dye and Arnold Palmer add to the variety of golf courses in Myrtle Beach. Every style is represented along the Grand Strand.
NorthMyrtleBeachGolf.com is a Myrtle Beach golf website by CondoLux Vacation Rentals. CondoLux specializes in oceanfront condos and beach homes, as well as quality golf packages and real estate sales. CondoLux now has two offices as well, one in Myrtle Beach and one in North Myrtle Beach. The Grand Strand is a 60 mile stretch, so having rental properties on both the north and south ends makes it easier on golfers and driving distances shorter.
"I try to put groups as close as I can to the courses they want to play so they don't have to drive too far from where they are staying," said Chinn.
You can also view golf news in Myrtle Beach on CondoLux's NorthMyrtleBeachGolf.net blog website.
CondoLux, Inc.
311 17th Avenue South • North Myrtle Beach, SC 29582
(800) 624-6418 toll-free
CondoLux Myrtle Beach, Inc.
1240 21st Ave N, Suite 104 • Myrtle Beach, SC 29577
(866) 243-6111 toll-free
CondoLux Vacation Rentals Profile
###