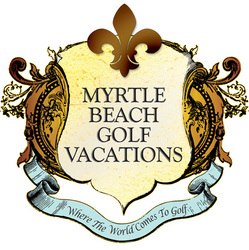 Myrtle Beach, SC (PRWEB) February 27, 2011
MyrtleBeachGolfVacations.com is proud to present some special golf vacation packages for the 2011 Myrtle Beach golf season. The Captain's Choice package is quickly becoming one of the favorite 2011 Myrtle Beach golf packages. The Captain's Choice package allows golfers to play from three to six rounds at some great courses which include The Witch, The Wizard, Wild Wing, Prestwick, Arrowhead, and Man O' War. The Captain's Choice package includes accommodations and all greens fees and carts. Another favorite golf package for a shorter trip is the Arnold Palmer Pick 3, which includes a three night stay, breakfast, lunch, greens fees, and cart fees. Golfers can visit the the Myrtle Beach Golf Vacations homepage in order to see the full slate of 2011 Myrtle Beach golf packages. MyrtleBeachGolfVacations.com is managed by a Myrtle Beach native, and in addition to providing golf packages they also feature golf course reviews and reviews of the top Myrtle Beach attractions.
Branden Players is the Director of Golf at Myrtle Beach Golf Vacations, and he is a Myrtle Beach native and avid golfer. Branden makes it a point to assist every group of golfers that book through Myrtle Beach Golf Vacations, and golfers love booking through someone like Branden who is knowledgeable about all the golf courses that Myrtle Beach has to offer. Branden has lived in the Myrtle Beach area all of his life, save the years that he attended the College of Charleston. This means that customers can get a unique vacation experience tailored by a Myrtle Beach native, rather than a package put together by a phone operator with little to no knowledge about the area. Branden is happy to provide information and suggestions on all things Myrtle Beach - from restaurants to attractions to nightlife.
MyrtleBeachGolfVacations.com specializes in custom Myrtle Beach golf vacation packages, but the website is a pretty extensive resource on many other things that Myrtle Beach has to offer. Customers can read reviews of Myrtle Beach golf courses, and can also read up on additional area information. One of the most popular pages on the site is the Myrtle Beach area information page, which talks about local laws, local weather, beach ordinances, Myrtle Beach shopping, and Myrtle Beach dining. Another popular page on the website is the Myrtle Beach area attractions page, which provides descriptions of some of the best things to do in Myrtle Beach. Some of the things that are covered are the Myrtle Beach Pelicans minor league baseball team, Alligator Adventure, Ripley's Aquarium, and the Waccatee Zoo.
Myrtle Beach Golf Vacations is constantly adding new golf packages to the website, and can custom build a package to fit the needs of any group of golfers. The partnership between Myrtle Beach Golf Vacations and some of the top hotels in the area means that golfers will get great service at a great price. Myrtle Beach Golf Vacations is happy to accommodate groups of any size.
# # #