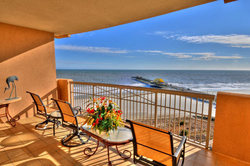 Myrtle Beach, SC (PRWEB) April 2, 2010
Over the last 8 months of 2009, the Myrtle Beach area has seen a decline in the vacation rental and real estate markets. Property values had depreciated. Oceanfront condo and home sales had slowed. Fewer and fewer tourists made a visit to the area for their vacation. However, it seems the start of the new year in 2010 has turned over a new leaf. One of the major players in Myrtle Beach real estate and condo rentals just announced a huge increase in rentals and sales this year as compared to the last 10 weeks of 2009.
CondoLux Vacation Rentals recently announced their rentals for condos and beach homes are up $1 million over last year for the same time period. Not only has rental traffic and reservations increased, but their Myrtle Beach real estate gross sales are up 500 percent as well.
"We saw a huge increase of traffic to our website just after Christmas indicating we might have a good season this year," said Martin Brown, operations manager for CondoLux. "I was very pleased when I pulled the numbers for this year's reservations."
That increase in traffic, an average of 124 percent over the previous year, was the first indicator of a fresh vacation season for 2010. It soon became apparent that extra traffic was turning into reservations and sales.
"Myrtle Beach condo rentals are becoming more popular compared to hotels in the area," Brown said. "They simply have more value and luxury, with price points that are about the same. Families are starting to realize that the 2 and 3 bedroom condos are just as cost effective, and nicer, as hotel rooms."
Additional signs that indicate the Grand Strand is climbing out of the recession is the addition of the Boardwalk and Promenade. Stretching 1.2 miles along Myrtle Beach's oceanfront this walkway provides solace while capturing breathtaking views-- all positive signs that Myrtle Beach continues to grow.
According to the Sun News, Myrtle Beach, makes up a third of the state's tourism industry, and is poised to recover faster than other destinations - despite high jobless rates and the slow economic recovery - because of a bigger marketing budget and new flights to markets such as Toronto and Dallas-Forth Worth, said Brad Dean, president and chief executive of the Myrtle Beach Chamber of Commerce. Dean went on to say that, "the Grand Strand's affordability, increased marketing and expanded air service position us to rebound farther and faster than most competing destinations."
CondoLux Vacation Rentals began its business since 1986, now offering over 300 Myrtle Beach condos and vacation villas for rental year-round. Aside from condo rentals and real estate, CondoLux also offers golf packages and vacation property management. CondoLux opened a new office last year in Myrtle Beach, SC that specializes in Myrtle Beach condo rentals in the downtown area, as well as luxury condos within the city limits.
After experiencing decades of economic growth, Myrtle Beach experienced a pothole in the road known as real estate. But amidst this past year of tumultuous decline, measurements were re-evaluated and the company is glad to see the re-paving of a brighter future.
For more information on CondoLux, visit their Myrtle Beach vacation rentals website. The company recently redesigned and relaunched their Myrtle Beach condo sales website as well.
CondoLux Vacation Rentals
311 17th Avenue South
North Myrtle Beach, SC 29582
http://www.condolux.net
###