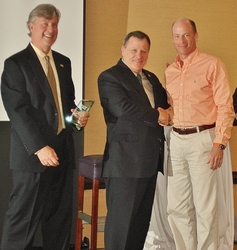 #1 ranking with his strong sales from the previous year, even with a real estate market in a decline
Myrtle Beach, SC (PRWEB) April 14, 2011
Exit Realty International recognized Jerry Pinkas, a real estate agent with Exit Realty Elite in Myrtle Beach, South Carolina for being the #1 ranked agent in South Carolina. The award was given out Friday, March 25th during the annual Exit Carolina Mega Awards ceremony at the Hilton Hotel in Charlotte, North Carolina.
Pinkas earned the #1 ranking with his strong sales from the previous year, even with a real estate market in a decline with the slump in the economy. Jerry's sales included properties ranging in price from $27,900 all the way to $560,000. Jerry had one property, 401 Branigan Court in Myrtle Beach, only on the market for 2 days before going under contract, an amazing feat in the current market situation. Jerry sold all types of properties from condos and townhomes to single family homes. The properties sold were located all over the Grand Strand including Myrtle Beach, North Myrtle Beach, Little River, Conway, Surfside Beach, Garden City and Murrells Inlet.
Steve Morris, CEO and founder of Exit International, was on hand to personally congratulate Pinkas on his accomplishments.
After being recognized, Pinkas said, "I have to thank my fantastic team, expert buyer's agents Barb Dwulet, Bob Natale, Ginny Whipple, Sherry Keefer, Stephanie LaBeau and Philip Evich, as well as the listing agents Scott Dohanish and Steve Smith, who is also our Myrtle Beach short sale specialist, and Lindsey Schoepfle, our extremely efficient Administrative Assistant."
The Exit Carolina Mega Awards recognizes outstanding Exit Realty agents and agencies in North Carolina and South Carolina. The awards are part of the annual sales convention of Exit of the Carolinas.
About Jerry Pinkas
Jerry is the # 1 agent in Myrtle Beach at Exit Realty Elite, # 1 agent in the state of South Carolina for Exit International, and ranked in the Top 1% of Realtors Nationwide. He brings a wealth of information, and strong work ethic, and is committed to helping his clients achieve their goals. Jerry has a proven system that guarantees results. He has excellent negotiating skills and is a Certified Real Estate Negotiator (CREN). He has a brilliant marketing plan and a budget to match. He is one of the top agents nationally, because of his ability to focus on his client's needs first with honest, reliable information. If you ask Jerry's friends to describe him they will say he is driven and hard working. He just loves what he does and throws all of his energy into helping his clients.
Jerry believes who a seller chooses to represent them in selling a condo or home can either help, or hurt when it comes to getting what they deserve. His goal is to get the seller the most amount of money in the least amount of time and with the least amount of hassles. He strives to provide his clients with the best service in the industry. There are many factors involved in selling Real Estate, whether it is a condo, or a house. It really boils down to aggressive marketing, a sound pricing strategy, knowing the numerous options that are available to and finally, having an expert agent.
In today's real estate market timing is everything. There are many fantastic deals on condos and homes in the marketplace, to get the insider secrets on Myrtle Beach Condos for sale you can rely on his team of experts. Honesty, integrity and loyalty is important and buyers need someone that will protect their interests - The Jerry Pinkas Team believes this and makes sure their team is on top by dedication to their clients.
To learn more about Myrtle Beach Real Estate, put the Team to work for you! Call them at (843) 839-9870.
# # #