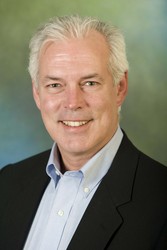 Ken's experience in leading companies from start up to profitability and later through several stages of growth will bring mySBX valuable insight and guidance at every stage of our growth
Reston, VA (PRWEB) March 4, 2009
mySBX Inc., an online professional network where businesses exchange opportunities, resources, and information to win more business, expand capabilities, and increase profitability, today announced the appointment of Ken Tighe to its Board of Directors.
"The addition of Ken to our Board of Directors ensures the company will continue to benefit from a diversity of experience and opinions. After an extensive search, we determined that Ken was an excellent candidate because of his demonstrated leadership skills, executive management experience in technology companies, and his reputation as an independent thinker," said Jeff White, Founder and President, mySBX Inc.
Mr. Tighe is a successful entrepreneur and executive with a record of building organizations and driving profitable growth in the software industry for over 20 years. He has led three consecutive start up/early stage companies to successful exits. Most recently Tighe led Care Fusion, Inc., from start up to profitability and eventually an all cash sale in four and a half years as CEO.
Previously Tighe founded Radian Systems, a software developer and systems integrator, and served as its president and CEO from 1994 to its 1999 merger with Sequoia Software. He served as EVP of Sequoia, a developer of XML-based enterprise portals, actively participating in Sequoia's venture round in 1999, successful IPO in May 2000, and all cash sale to Citrix Systems (NASDAQ: CXTS) in 2001.
Tighe is currently the Principal of Charles Street Capital, LLC, an angel investment fund based near Washington, D.C.
"Ken's experience in leading companies from start up to profitability and later through several stages of growth will bring mySBX valuable insight and guidance at every stage of our growth," said White.
This addition increases the number of mySBX director to 3. In addition to Tighe, the members of mySBX's board are Bradley Schwartz, co-founder, Chairman and Chief Executive Officer and Jeff White, co-founder and President.
About mySBX:
Based in Reston, VA, mySBX is a professional and business social network where businesses of all sizes and independent professionals go to: publish and secure new subcontract and teaming opportunities; find qualified partners and vendors; find and place resources; exchange business assets for value; and collaborate in communities that focus on areas critical to business. Visit mySBX to learn more about registering to begin leveraging the mySBX network.
###