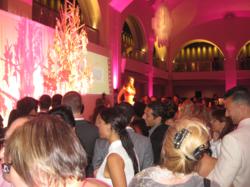 MyShindigs.com continues to grow, gaining notoriety and establishing itself on the big stage in the world of social networking...
Boston, MA (PRWEB) September 12, 2012
During exclusive parties and events such as The Toronto International Film Festival(TIFF) being 'in the know' and rubbing shoulders with some of the world's most renowned actors and actresses makes all the difference between being where the action is or being left on the sidelines simply hoping to be there. MyShindigs.com is emerging and establishing itself on the big stage in its own right in the world of social networking. As MyShindigs continues to gain momentum and notoriety amongst its ever-growing user base some of its members have been adding some very private and exclusive events during TIFF that have been the talk of the festival. The events posted on the website even disclose some of the actors and actresses who will be present at the identified functions. A few lucky members located these events in the Shindig Calendar (one of the sites main features) which provides people with a glimpse into local parties and events of interest. The ability to locate these events provided some members the opportunity to take part in the revelry.
As more and more people, entrepreneurs, venues, charitable organizations, and event planners sign up to the event and party sharing platform MyShindigs has been doing something rare for web properties; getting involved offline with some of its members by co-hosting some fairly large parties. On the heels of the highly successful singles party back in August dubbed "Sexy and Single in Toronto", during TIFF the site committed to co-hosting two events with Oxford Beach, a reputable, and successful events company in Toronto, Canada. The first of which was a star-studded Canadian Breast Cancer Foundation charity event that took place at the stunning Arcadian Court featuring two-story high ceilings, live bands, DJs, Calvin Klein lingerie fashion show, silent auction, as well as a number of sports celebrities such as members of the Canadian Women's National soccer team, members of the Toronto Maple Leafs hockey team, and rising tennis star Milos Raonic. "We are very excited to be involved in promoting parties and events surrounding film and the arts not only in North America but around the world. We want to provide our members with easier access to these fantastic social and cultural events and are striving every day to provide them with the tools to expand and evolve their social calendars," say the site co-founders Jason Andrews and Matthew Tautt.
The second party is scheduled for Friday September 14th at Malaparte on the 6th floor of the TIFF Bell Lightbox, the epicentre of activity for actors and actresses during the world renowned film festival. All MyShindigs members received a special promotional code offering reduced rates. It seems that online membership on the social media website which is free certainly does have its advantages.
Active site users and proprietors of several of Toronto's hottest entertainment venues and leading force in hospitality Icon Legacy also posted some exclusive events taking place at their recently launched venues Patria and Storys featuring private and intimate cocktail parties with actors of such films as On the Road starring Kirsten Dunst, Kristen Stewart, and Amy Adams, Seven Psychopaths starring Colin Farrell and Woody Harrelson, The Iceman starring Ray Liotta and Winona Ryder, and At Any Price starring Dennis Quaid and Heather Graham. Icon Legacy's newly opened modern day saloon themed restaurant Weslodge was the headquarters for AMC while staying in town.
"We are also energized by the fact that membership continues to soar and have been receiving positive feedback from our members on what they need to enhance their online experience. With this in mind in the coming weeks we have some very new and interactive functions that we will be adding and introducing to the website. We look forward to sharing this exciting news with the Shindig Nation and the world," add the site co-founders.
The Toronto International Film Festival wraps up soon however the MyShindigs website will continue to offer members a free, innovative, and interactive way to post and share events and parties of interest long after the festival comes to a close. Members are able to follow each other's events, uniting and evolving people's social calendars all over the world.
About MyShindigs
MyShindigs is a social networking platform that specializes in allowing members to plan, organize, manage, promote and broadcast their public, private and company events and parties. MyShindigs allows users to search out, share, follow and join each other's events and parties of interest to expand their social calendar throughout their lives. For more information, visit http://www.myshindigs.com.