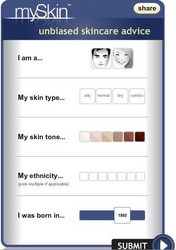 Jersey City, NJ (PRWEB) April 5, 2010
Just in time for spring, mySkin.com announces the release of its interactive skincare Facebook application, Beauty4Me.
Consumers today have hundreds of thousands of skincare products to choose from, yet they don't know which ones actually work for their skin. A Facebook-based personalized, unbiased, and scientific skincare advisor can assist them in making product choices based on their individual skin profile. This ease in decision-making empowers them to be smart, confident shoppers, ultimately achieving great looking skin.
With the 'Beauty4Me' app, the user answers a few questions about his/ her skin, then uses an interactive paint brush to highlight his/ her face on the screen with skin concerns. The app addresses skin concerns such as acne, dark circles, dryness, fine lines, oiliness, and redness. On feeding in this data, the user sees the products that would work best for his/ her skin concern and profile.
The product recommendations via this app are powered by scientific algorithms that analyze one's skin profile on multiple parameters like genetics, age, ethnicity, skin tone, and lifestyle. More importantly, the algorithms use a patent-pending methodology called 'Just Like Me'TM which takes into account product experiences and outcomes of real people with similar skin profiles.
The skincare advice app is available at http://www.facebook.com/apps/application.php?id=221948760981.
To get a full personalized skincare recommendation experience go to http://www.myskin.com and use invite code 'Beautiful'.
About mySkin.com:
mySkin.com offers personalized, unbiased, and scientific skincare product recommendations based on your skin's characteristics. Developed by world renowned skin scientists and specialists, myskin.com utilizes scientific principles and sophisticated algorithms to offer you unbiased product recommendations that work best for YOU, not your friend, mother or favorite celebrity. mySkin.com is also a skincare social community that connects users with similar skin profile. It runs an unbiased skincare blog, features other beauty blogs, and has an active skincare discussion forum.
Contact:
Holly Chen
mySkin, Inc
Tel: 201-616-0203
###