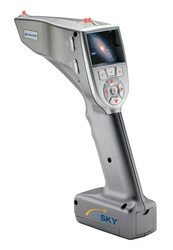 Just in time for the holidays and for the upcoming 2009 International Year of Astronomy, the mySKY PLUS is the next best thing to having your own personal astronomer in the backyard. Consumer will love the mySKY PLUS's enhanced interactive content that is sure to aid amateur astronomers in better understanding the universe we live in
IRVINE, Calif. (PRWEB) September 4, 2008
Easy to use right out of the box, and ergonomically designed for optimum performance night after night, Meade's mySKY PLUS's "point and shoot" technology enables users to locate, identify and learn about more than 30,000 celestial objects (stars, planets, clusters, galaxies) in the night sky with the press of a button. Users can choose to satisfy their deep space curiosity by discovering random objects in the night sky using the mySKy PLUS's illuminated alignment sight, or embark on one of mySKY PLUS' built-in guided tours of the universe including a look at the best objects in the night sky tailored to the time, date and location using the device's innovative "Tonight's Best" feature.
In addition, the mySKY PLUS has "plug-and-play" compatibility with Meade's AutoStar enabled telescopes, providing users with the ability to scout the wonders of the night sky through Meade's award-winning high powered line of telescopes.
"Just in time for the holidays and for the upcoming 2009 International Year of Astronomy, the mySKY PLUS is the next best thing to having your own personal astronomer in the backyard. Consumer will love the mySKY PLUS's enhanced interactive content that is sure to aid amateur astronomers in better understanding the universe we live in," said Steve Muellner, CEO, Meade Instruments.
The ideal companion for families, students, experienced astronomers and budding backyard stargazers, Meade's mySKY PLUS comes with a 256 Megabyte SD storage card, advanced power saving features to extend battery life and comfortable high-fidelity ear buds for listening to audio presentations. And, as the Universe constantly changes, users can easily upgrade the mySKY PLUS's knowledge base by downloading updated object information, guided tours and software revisions to the SD card from Meade's support site.
Meade's mySKY PLUS has a suggested manufacturers retail price of $299.00 and is available online and at retail. Visit http://www.meade.com for more information on product features and availability.
ABOUT MEADE INSTRUMENTS
Built on the pillars of exploration, discovery, imaging, and sharing, Irvine, Calif. based Meade Instruments is the leading designer and manufacturer of telescopes and optical accessories with an enviable worldwide reputation for its well-engineered products that enable both professional and amateur astronomy enthusiasts to experience the wonder and excitement of exploring the universe we live in. Offering the industry's broadest product line of astronomical telescopes, solar telescopes, binoculars, microscopes and related optical accessories, the company distributes its products worldwide through a network of specialty retailers, mass merchandisers and domestic and foreign distributors. Additional information on Meade and its products including its ETX, LX, Coronado and mySKY series is available at http://www.meade.com.
"Safe-Harbor" Statement under the Private Securities Litigation Reform Act of 1995: This news release contains comments and forward-looking statements based on current plans, expectations, events, and financial and industry trends that may affect the Company's future operating results and financial position. Such statements involve risks and uncertainties which cannot be predicted or quantified and which may cause future activities and results of operations to differ materially from those discussed above. Such risks and uncertainties include risks and uncertainties previously set forth in the Company's filings with the Securities and Exchange Commission. For additional information, please refer to the Company's filings with the Securities and Exchange Commission.
MULTIMEDIA GALLERY http://www.businesswire.com/cgi-bin/mmg.cgi?eid=5770739