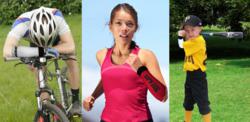 "This product fits First Lady, Michelle Obama's Health & Fitness efforts for todays youth"
Ft. Worth, Texas (PRWEB) August 22, 2012
No Napkin Needed Inc, the Fort Worth, Texas based designer and manufacturer of MySleev™, America's first wear and wipe, not on mysleev product line.
This new innovative product line was inspired by everyday life experiences of its founders, George "Butch" Harmon and Adina Sweitzer. MySleev™ retail prices range from $8.99 to $16.99. Wholesale or large quantity pricing is available along with Licensing opportunities.
MySleev™ came to life as idea turned into a product in the same manner as many great, successful products, observing behavior, something that everyone does when they don't have a napkin. On a Sunday afternoon Butch and Adina were at his home in Ft. Worth watching a NASCAR race, Darrell Waldrip was doing commentary on the race and it was pretty clear he was getting more and more frustrated by all the trash on the track, particularly napkins that were ending up on car grills and making drivers reduce their speed.
"So what are fans supposed to do if they're eating nachos or a hamburger and don't have a napkin," asked Adina. "This," joked Butch as he wiped his mouth across his forearm. Adina thought for a minute, reached into the laundry basket for a towel she'd just folded, and wrapped it around her arm. And that was the beginning of MySleev™ and No Napkin Needed Inc.
George, a retired heavy equipment mechanic and Adina, a homemaker and freelance writer, being adventurous and fun loving people, documented their idea, listed the pros and cons and since the pros out weighted the cons decided to turn their idea into product targeted at the sporting goods and gift markets. Adina led with her contacts to generate a pattern to generate prototypes and start a small business that would use local businesses and later branch out to other states.
They begin the process of determining the market and positioning of their product. In focusing on the sports initiative they are targeting one of the hottest areas in American business, sports and healthy lifestyles. This product ties perfectly into First Lady Michelle Obama's initiative for health and fitness among America's youth.
"We got very excited when we begin to realize that we can help in improving the life's of children and adults by promoting sporting activity and physical fitness with MySleev™ products"……says Adina Sweitzer, Co-founder of No Napkins Needed, owner of MySleev™.
The MySleev™ product line consists of MySleev™ for Kids, MySleev™ for Hunters, MySleev™ for Sports and MySleev for Physical Fitness.
The next step was finding a manufacturer; Adina made called day after day trying to find someone willing to take on manufacturing, only to learn sewing manufacturers were few in the United States today.
Adina discussed the situation with her business partner Butch and they both agreed that no matter how difficult it was absolutely essential that the products be made in the United States. They went to social media, Facebook and posted that they were looking for a sewing factory in the Dallas/Ft. Worth area. They received three replies, Shannon Sharp-Carter, an employee at Goodwill Industries of East Texas, Inc., and friend of Adina's from high school suggested Dallas Lighthouse for the Blind. Shannon made some calls and helped us set up a meeting with Nancy Mayfield, who does their Product Development and their Sales Director, Doug Jones.
"We are very excited about the opportunity to work with Butch and Adina, their passion for helping others and desire to keep the production here in the United States tells you exactly what's in their hearts." Says Nancy Mayfield.
With a handshake, we were all on board. Nancy and her team at Dallas Lighthouse made our prototype and samples and we made certain all the fabric ordered for MySleev™ would be Made in the USA. Today, MySleev™ is on the arms of kids, athletes, sports fans and hunters across America. All because of napkins flying around the NASCAR track in Martinsville.