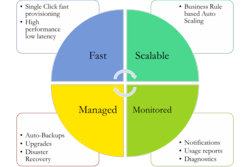 CogDB MySql Managed Service is the ultimate power for DBAs with high availability, scalability and high performance data solutions, providing automated backups and upgrades on Azure Cloud
Pune, Maharashtra (PRWEB) February 28, 2013
Cognosys Technologies announced a new version of CogDB Database as a Service with awesome new features additions on Azure PaaS. CogDB offers High Availability, High Performance and Low Latency Database solutions at affordable costs. With CogDB, Not only can Clients get rid of physical infra which is difficult to scale but can also avoid those shared hosting servers which enforce hard limits on resources which ultimately lead to server downtime during peak loads. Cloud based database hosting on Azure cloud with SLA backed by Microsoft is the ultimate choice for heavy load production deployments. Client also have the choice to upgrade to dedicated high availability clusters. Leveraging PAYG(Pay As You Go) Usage model gives clients immense freedom to focus on application development by leaving the end to end database management to CogDB. Users can achieve cost saving on costly server infrastructure and avoid paying for idle server resources. They can also avoid issues of server timeout errors and long database access waits for end users calls by leveraging cloud power with Microsoft Azure using CogDB.
CogDB load balances the read queries with replicated server. This is managed internally with innovative replication technology on PaaS model providing flexible geo-replicated low latency database access. CogDB is not only highly scalable but also billed only as per usage and not by the provisioned capacity.
In addition to database services CogDB offers the seamless integration with cache service thus empowering MySQL databases to deliver highly optimized application performance with built in load balancing.
CogDB is best solution for DBAs, to provision databases we well as to scale automatically with peak loads while still offering very low latency in addition to providing automated backup maintenance and upgrades.
Additionally CogDB offer multiple NoSQL stacks as a service like Redis as a Service, MongoDb as a Service along with consultancy services for integration with multiple open source stacks like Hadoop,Varnish, Haproxy, Storm etc. CogDB's end to end solutions effectively implement scalable and reliable database-driven enterprise applications.
About MySql:
MySql is one of the most popular open source database from Oracle®, which powers the most demanding E-commerce, OLTP and Web applications.
About Cognosys Technologies:
Cognosys Technologies, Red Herring Global 2012 Top 100 Winner, is a Global ISV leading in Technical Consulting & Cloud Services leveraging cutting edge technologies to provide software solutions across domains with special emphasis on Storage Services, Media, Finance, HealthCare, ERP/ CRM, high performance cloud / cluster computing, complex event processing, enterprise mobile applications and creative embedded deployments. Combining extensive research with unparalleled experience, comprehensive capabilities across industries and business functions, Cognosys Technologies collaborates with clients to help them become high-performance businesses.