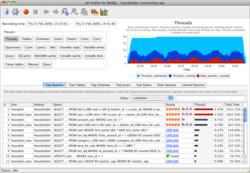 Stockholm, Sweden (PRWEB) October 20, 2011
Jet Profiler for MySQL provides detailed information regarding the heaviest sql queries and users. In addition, it displays replication, network and I/O statistics as well as information about table usage, slow queries and lock contention. Through a graphical interface, users are able to browse through profiling information easily and zoom in on dedicated problem areas, such as spikes in load, allowing developers and database administrators to quickly identify and fix performance problems in their applications.
Speaking from Stockholm, Polaricon AB founder Björn Melinder had this to say about the recent release: "This is really a response to user demand in important mainland European markets. In today's marketplace, more so than at any other time, the priority is profitability, stability and scalability. Jet Profiler identified early on the need for a simplified approach when it came to performance and diagnostic tools for the LAMP stack (Linux, Apache, MySQL, PHP/other). We feel that this demand has been recognised outside of English speaking markets, and the addition of German and Swedish support gives us the opportunity for growth in important European markets."
In addition to multi language support, features added in this release include Adjustable Data Retention timeframe and Top IPs. These additional features give users greater control of the time period of recorded data, plus a dedicated insight into load balancing.
About Polaricon AB:
Polaricon AB provides diagnostics and performance tools for the LAMP stack (Linux, Apache, MySQL, PHP/other). With the ever rising popularity of the LAMP stack, more and more big companies need professional tools to manage and scale the software. By combining expertise and ease of use, Polaricon is able to provide some of the best solutions to these specific problems.
Polaricon AB is privately held company based in Stockholm, Sweden. For more information, visit http://www.polaricon.com.
###