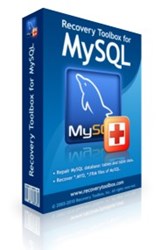 a nice little tool that can really save you when things go out of control.
Alexandria, VA (PRWEB) December 20, 2012
Recovery Toolbox is happy to announce the release of Recovery Toolbox for MySQL, a special tool that efficiently restores data from damaged databases. MySQL recovery program fully supports the ISAM format and can save data either in the format of standalone scripts or directly to the database.
Despite the fact that the program works with such a complex format as databases, it produces excellent results in nearly all situations, even the worst ones. The program uses a step-by-step wizard that guides the user through the process, thus minimizing the possibility of a human mistake. The core of the program is a proprietary data analysis engine that combines several algorithms for unsurpassed speed, quality of recovery and consistently good results. One of the most remarkable features of Recovery Toolbox for MySQL is a possibility to send the damaged source file to the authors of the program for manual analysis and recovery. This can be done using the corresponding command from the main menu.
"MySQL lies in the foundation of millions of websites and custom applications. We attempted to create a tool that would deal with a complex matter like a damaged MySQL database the same way our other products deal with text files or spreadsheets," notes, one of the creators of the program Alexey Korablev. "What we offer today is a nice little tool that can really save you when things go out of control. This is one of our best tools, that's for sure."
Recovery Toolbox for MySQL is available for immediate download from the official website. Users are strongly advised to try the program before buying it to avoid any misunderstanding. Please do not hesitate to download it from http://www.mysql.recoverytoolbox.com/ and try.