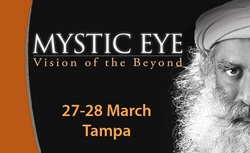 Since I began practicing meditation with Sadhguru, I have developed an ever-deepening sense of peace that allows me to live unaffected by life's ups and downs. ~Richard Vogt aka 'Richard from Texas' of Eat, Pray, Love
Tampa, FL (PRWEB) February 26, 2010
Thousands will soon have the opportunity to explore life's most fascinating questions at a most unexpected place, Tampa's USF Soccer Stadium. In an unique two-evening event entitled "Mystic Eye-Vision of the Beyond," Sadhguru, a world-renowned yogi and profound mystic, will empower you to delve within and find your utmost potential, wisdom and bliss. The Mystic Eye program includes powerful meditations guided by Sadhguru.
"Since I began practicing meditation with Sadhguru, I have developed an ever-deepening sense of peace that allows me to live unaffected by life's ups and downs. If I do get caught by something, I am able to get myself 'off the hook.' I don't dangle at the mercy of my mind or my emotions," said Richard Vogt aka 'Richard from Texas' of bestselling novel Eat, Pray, Love. "Mystic Eye is truly a special occasion to be with Sadhguru, ask questions, and meditate with his guidance. I hope many will come and make use of this once-in-a-lifetime opportunity."
'Is there absolute love? How can I find my soul-mate? What is my life purpose? Was I born with a certain destiny? Is there life after death? What is enlightenment?' Participants are asked to bring their most intriguing lifelong questions, which they can also submit online for Sadhguru to answer during the Mystic Eye event.
Mystic Eye:
USF Soccer Stadium
4202 E.Fowler Avenue
Tampa, FL 33620
March 27-Saturday—
Registration and reception: 4:30pm-5: 45pm
Program: 6pm-9pm
March 28-Sunday—
Program: 5:30pm-10 pm
This event is suitable for ages 16 and over; participation requires no prior experience with meditation.
The program cost is $250. Discounts available to "early birds," students, seniors, couples and groups. Seating is limited. Pre-registration at http://www.mysticeye.org is highly recommended.
About Sadhguru:
Named one of India's 50 most influential people, Sadhguru speaks before millions annually in India, Asia, Africa, Europe and the United States. His speaking invitations include some of the world's most prominent leadership forums, including the United Nations, the World Economic Forum, TED and the World Peace Congress.
Sadhguru's vision and understanding of modern social, economic and environmental issues have led to interviews with BBC, Bloomberg, CNBC, CNNfn, and Newsweek International. He also has been featured in Bill Moyers' PBS special entitled "Beyond Our Differences" and the acclaimed film "ONE,the Movie." Sadhguru is the subject of four books and co-author of Amazon #1 bestseller, Midnights with the Mystic (http://www.midnightswiththemystic.com). For more information about Sadhguru, visit http://www.ishafoundation.org.
###