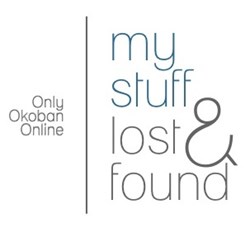 Protect laptops, phones, luggage, tablets, passports, cameras, purses, pets, keys and other valuables with unique notification service operating in 2,200+ airports, on 400+ airlines and in thousands of "frequent finder" locations.
Atlanta, GA (PRWEB) January 09, 2013
My Stuff Lost & Found, http://www.mystufflostandfound.com announces its 2013 expansion of the "koban" lost and found concept worldwide, combining the "goodwill" of this great Japanese tradition with the "technology" of online purchase, registration and worldwide notification service through Okoban®.
"Our online sales have now reached all seven continents" said Gordon Burns, CEO of My Stuff Lost & Found. "We continue to grow as people learn more about Okoban's unique global lost and found service to protect valuables."
Okoban® was founded in response to a travel industry need for a secure, private worldwide lost and found service for returning lost valuables to their owner quickly and at no cost.
"We all have lost valuables and we all have found others lost valuables, and struggled to return them to their owner" says Burns. "There are 2,000 laptops left at U.S. airport security checkpoints every day. Sadly, only one-third of these are returned, because finding the owner is just too difficult. The remaining two-thirds are salvaged."
Every second of every day, 365 days per year, airport baggage is mishandled. More than 50,000 of these bags are destroyed each month because finding the owner is too difficult. When you add in the incidents of lost phones, tablets, passports, sets of keys, cameras, jewelry and other valuables, the losses are staggering.
In most cases, lost items wind up in some "not so easy to find" lost and found somewhere. The concept of a lost and found has been with us for centuries. Goodwill and respecting another person's property is a common theme among people in civilized nations.
However all of the historical examples of lost and found systems lacked one thing… a system for the finder of a lost item to be able to connect that particular lost item with its owner quickly, securely, privately and at no cost.
Today's Japanese culture has taken lost and found to a high level. The Japanese people hold a deep respect for the property of others. There are endless stories of valuable and not so valuable items being diligently turned in by the finders in the hope of finding the owner.
In Japan, the center of this process is the "koban" or police box. Every major city and town has these mini-police stations located within each neighborhood.
In the Japanese language, using "O" in front of a word expresses respect. O-koban or Okoban® is founded on this principle, paying respect to this great Japanese institution.
Okoban takes this great Japanese tradition even further. This unique system allows the found valuable to become reconnected with the owner quickly and securely anywhere in the world. Oftentimes, the lost valuable finds the owner before the owner realizes the item is lost.
Inexpensive luggage tags or tracker tags are purchased online at http://www.mystufflostandfound.com, and then applied to laptops, phones, luggage, tablets, passports, purses, sets of keys or other valuables. Their Unique Identification (UID) code is registered online into the Okoban system.
The finder of a lost valuable enters the Unique Identification (UID) code on Okoban's website which instantaneously contacts the owner through a notification service that reaches the owner anywhere in the world, reporting the lost item found and the recovery location.
The worldwide Okoban notification service operates in 2,200+ airports, on 400+ airlines and in thousands of "frequent finder" locations, institutional lost and found facilities such as TSA, rail, maritime, coach, car rental and hotel companies.
The purchase of Okoban tags includes lifelong coverage in the system. There are no annual renewal fees.
Okoban is owned by Travel Sentry, the company that licenses the TSA accessible locks sold at tens of thousands of retail outlets, by over 400 luggage manufacturers worldwide and currently installed on 200 million luggage products everywhere.
They are directly linked to the SITA/IATA World Tracer system. WorldTracer is the world's leading automated service for tracing lost and mishandled baggage and property.
My Stuff Lost and Found, founded in 2012, provides convenient worldwide online sales and service of Okoban's sturdy tracker tags for laptops, phones, tablets, passports, luggage, cameras, keys, pets and other valuables.
Mystufflostandfound.com is the online gateway to Okoban's tracking service for valuables and the global lost and found service for life. Purchase Okoban online at http://www.mystufflostandfound.com