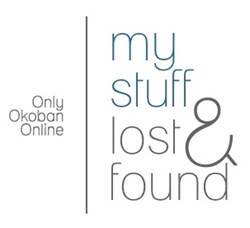 Okoban provides a free global lost and found service to protect laptops, phones, tablets, electronics, keys, jewelry, pets, luggage, passports and cameras.
Atlanta, GA (PRWEB) October 30, 2012
Now, everyone can protect their laptops, phones, tablets, electronics, keys, jewelry, pets and even luggage, passports, cameras and other valuables with convenient online access. My Stuff Lost and Found (http://www.mystufflostandfound.com) announces a partnership with Okoban® and Travel Sentry® for the online sales of Okoban tracker tags and luggage tags to provide free global lost and found services for personal and business valuables.
A 2008 Ponemon Institute research study for Dell found nearly 2,000 laptops are left at security checkpoints every day. Of those, less than one-third are returned, simply because finding the owner is so difficult. Sadly, the remaining two-thirds are sold as salvage. More than 500,000 bags are sold as salvage every year by the airlines because the owners could not be found. Every day, lost passports are found at security checkpoints, hotels, restaurants, shuttles, buses and taxis.
"We have all lost valuable stuff, and we have also all found someone else's lost valuable stuff that we wished to return but had no way to contact the owner," says Gordon Burns, CEO of My Stuff Lost and Found. "Your child's electronic tablet found by the cleaning staff in the airplane's seat pocket or your pet found in Yellowstone on your family's cross country vacation with your outdated address on the collar may never be returned. Now there is a solution – Okoban. Your lost valuable finds you."
A purchaser protects their valuables by affixing a luggage tracker tag or sticker on the valuable and registering the item on a secure personal account at http://www.okoban.com. A finder of the lost valuable enters the Unique Identification (UID) on the Okoban website and the system immediately notifies the owner with a secure email and text message of the found valuable and its recovery location. Often, the lost valuable finds the owner before the owner realizes the item is lost.
Okoban is a tracking service for valuables provided by Travel Sentry, the company that licenses the TSA accessible locks sold at tens of thousands of retail outlets by over 400 luggage manufacturers worldwide and currently installed on 200 million luggage products everywhere.
Allen Davidson, partner with Okoban and Travel Sentry, sees this as an opportunity to greatly expand the security over one's possessions. "Okoban is where technology and goodwill come together. My Stuff Lost and Found, Okoban and Travel Sentry offer more opportunities for connecting the finder to the owner quickly and effectively."
"The peace of mind afforded by this product is invaluable. For such a small investment, you can greatly increase your odds of having your lost item returned quickly," says Davidson. "The finder service is free for life, anywhere in the world."
While any individual has access to the system for reporting found items, much of the time "frequent finders" such as TSA, airports, airlines, rail, maritime, coach, rental car and hotel companies are making these reports. Travel Sentry works with major "frequent finder" institutions through special accounts and access to Okoban via the WorldTracer system, which is used by virtually all airlines.
Okoban is the only property registration system linked to the airline industry tracing system used by over 400 airline companies in over 2,000 airports worldwide. They are directly linked to the SITA/IATA World Tracer system. WorldTracer is the world's leading automated service for tracing lost and mishandled baggage and property.
My Stuff Lost and Found, founded in 2012, provides convenient worldwide online sales and service of Okoban's sturdy tracker tags for laptops, phones, tablets, passports, luggage, cameras, pets and other valuables. Mystufflostandfound.com is the online gateway to Okoban's tracking service for valuables and free global lost and found service for life. To find out how technology can now protect your valuables, go to http://www.mystufflostandfound.com.