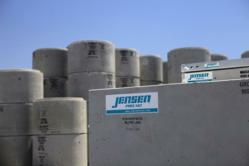 We've heard that an underground transformer explosion can propel a manhole cover into the air but can a gas explosion? I guess we'll find out Wednesday.
Sacramento, CA (PRWEB) October 28, 2011
Since the possibility of finding a real sewer to perform this experiment seem unlikely, Beyond Television Productions, the company that produces "MythBusters" airing on the Discovery Channel, had to build their own sewer to investigate the myth that gas explosions in sewers can turn manhole covers into missiles of danger.
To pull off their experiment, the Associate Producers from Beyond Television Productions contacted Jensen Precast to discuss acquiring precast sewer products with which to build a full-scale model sewer. Doug Miersch, Customer Service Manager of Jensen Precast's Sacramento branch, fielded the call.
"This was the second time we were contacted to participate in a 'MythBusters' episode," said Miersch. "The first time was for a manhole cover that they could use as an alternative to a spare if you had a flat tire on your car."
Together with Jensen Precast's Regional General Manager, Mark Voiselle, Doug began pulling the details and products together for the sewer project. It required over 40 feet of box culvert, plus cast iron grates and manhole covers.
The producers scouted for the perfect location to conduct their "Drain Disaster" experiment and found a suitable place in a remote location of Northern California. They obtained a contractor who not only agreed to build the pseudo sewer, but would also remove and recycle the products, as well as return the site to its natural state.
Once constructed, the sewer was filled with enough methane gas to reach the optimum air-to-gas ratio to create an explosion. An electrical short, such as might occur in an actual sewer system, was used to ignite the gas.
What was the result of the experiment? The producers at Beyond Television Productions and Discovery won't reveal the outcome but viewers can find out when the episode premiers on November 2, 2011 at 9 p.m. (check your local listings for the time in your area).
"We've heard that an underground transformer explosion can propel a manhole cover into the air but can a gas explosion?" said Eric Jensen, Chief Marketing Officer for Jensen Precast. "I guess we'll find out along with the rest of the country Wednesday evening."
Beyond Television Productions is a subsidiary of the Australian company Beyond International. The company is involved in the creation and international development of television, feature films, and ancillary products. The company has an extensive television program catalog of over 5000 hours. The library covers all genres including drama, feature films, comedy, children's, reality, and documentaries.
Jensen Precast, founded by Don Jensen in 1968, is one of the largest independently owned precast concrete manufacturing companies in the United States. With corporate headquarters in Sparks, NV, Jensen Precast has 12 production facilities throughout the Southwest and Hawaii. Jensen Precast designs and manufactures standard and custom precast concrete products to meet small to large-scale infrastructure demands. Jensen Precast products are made in the USA and are used in highway construction, retaining walls, electric and gas utilities, telecommunications, stormwater capture and treatment, rainwater harvesting, on-site wastewater, sewage applications, above ground fuel storage, agriculture, landscaping, and more.
# # #