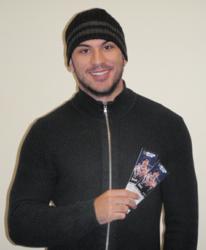 It was nice to go through a company like [MyTicketin.com]. The price is very reasonable from the start, and then to get this extra reward ... is a very nice change of pace from typical ticket buying experience.
Houston, Texas (PRWEB) January 04, 2012
Brandon Rodriguez received an unexpected phone call from MyTicketin.com on December 27, letting him know that he won two front row tickets to the Houston Texans vs. Tennessee Titans game. The Wisconsin native said he's been following the Texans' season this year even though he's originally a Green Bay Packers fan.
Since he lives only about a five minute drive from the MyTicketin.com office, Rodriguez said he decided to drive over and make sure there was no catch to the offer. After talking in person to the MyTicketin.com team, he realized he was actually going to be sitting on the front row for the Texans vs. Titans game.
"I was crazy excited," Rodriguez said. "I've never been front row for any sporting event ever, so I could've gone to any game and it would've been really cool to be that close and to be that close to the players. It was very cool."
Rodriguez took a friend from work, who he said is a much bigger Texans fan that he is himself. The pair added to the excitement of the game by calling out to the Tennessee players.
"We called out to Chris Johnson a couple times, and talked to him about his teeth, asked him where he got his teeth at, because he's got the gold grill," Rodriguez said while laughing at the memory.
Though he's lived in Houston for more than two years, Rodriguez said he hasn't been converted into a die-hard Texans fan yet. Still, he said he's excited for the team making the playoffs and does want them to do well.
There's no doubt it's been a trying season for the Houston team, losing key players left and right. The team has stepped up, though, to fill the shoes of the missing players. Fans have risen to the occasion as well, filling Reliant Stadium with noise and energy.
"You could see the quarterbacks' trying to cover their helmet, they have to walk up and down the line to give the play," Rodriguez said. "Normally, you're not supposed to see that."
The Northwestern grad hung on to a MyTicketin.com gift card he received years ago after hearing of the company from a friend and decided to use the credit on tickets to the Meineke Car Care Texas Bowl, where his alma mater was playing against Texas A&M University. He never imagined that those tickets would lead to the experience of a lifetime the very next day.
"It was nice to go through a company like [MyTicketin.com]. The price is very reasonable from the start," Rodriguez said, "and then to get this extra reward or have that extra incentive is a very nice change of pace from typical ticket buying experience."
###