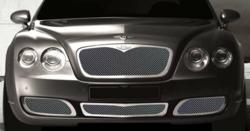 MyTightRide.com provides top quality custom automotive front grilles for many car, truck and SUV applications
Anaheim, CA (PRWEB) January 31, 2012
MyTightRide.com (Anaheim, CA) and T-REX Custom Automotive Grilles (Corona, CA) have teamed up to dominate the market with top-quality billet grilles and mesh grilles for many late-model cars, trucks and SUV's. T-REX has chosen MyTightRide.com to be one of their top retailers based on peak sales records and MyTightRide.com's superior customer service.
The automotive billet grille and mesh grille market sales have increased exponentially in the last ten years. This popularity is due to the demand of car and truck owners to differentiate their own "ride" from all the other vehicles on the road. Most auto manufacturers produce vehicles with very dull front-ends. Take a look around and notice all the cars on the road with huge, empty black holes in the front. By adding a custom aftermarket billet grille or mesh grille, your vehicle will stand out beyond the rest of the crowd.
MyTightRide.com's owner/CEO Glenn Moyers was asked why T-REX? "That's easy - T-REX offers the latest top-quality products and their customer service is outstanding. MyTightRide has had a relationship with T-REX for over seven years and T-REX has consistently proven to be the leader in the aftermarket grille industry."
T-REX specializes in billet grilles made from quality aircraft grade aluminum. Only the best materials are used in every T-REX product. All T-REX grilles are made here in the USA. If you have a question regarding an install, you can contact MyTightRide or T-REX directly for assistance.
We also asked Moyers about who buys grilles? "Everyone! Custom grilles are extremely popular. Our demographic is across the board and worldwide. Men from 16 to 80. New car dealerships. Body shops - aftermarket grilles are great when repairing damaged front-ends. Custom shops. Aunts for their nephews because custom grilles make great gifts. Many women appreciate the 'bling' aspect of our grilles and purchase them for their own vehicle. Our grille audience is huge."
T-REX Custom Grilles also offers their high-line X-Metal mesh grille designs for many late-model trucks and SUV's. The X-Metal grille line offers the buyer an exceptionally tough look to the front of their truck. The X-Metal grille line is intended to compete with other high-end billet and mesh grille manufacturers.
Finally, the Dresden line of mesh grilles is T-REX's latest offering in the automotive grille market. The Dresden line of grilles is marketed to the more sophisticated demographic of European luxury vehicles such as BMW and Mercedes. This new line of grilles will also include vehicles such as the Cadillac Escalade, Chrysler 300 and Chevy Camaro, Tahoe and Suburban.
For more information regarding automotive billet grilles and mesh grilles, please contact MyTightRide.com at (714) 956-3801 or info(at)mytightride(dot)com.
###