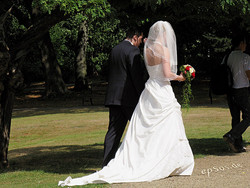 Companies are quickly going out of business because they are not able to keep up with the drastic changes caused by the "Katrina" of the wedding industry.
New York, NY (PRWEB) October 14, 2010
Established wedding vendors are falling on hard times, as reported by sources such as EWedNews. They are quickly going out of business because they are not able to keep up with the drastic changes caused by the "Katrina" of the wedding industry. These changes show that many couples are no longer choosing lavish, branded and expensive weddings, and are instead now looking for affordable and practical alternatives.
Particularly amongst the bridal jewelry vendors, a large amount of companies have not been able to keep up with these recent developments, revealing the priorities of a new generation of brides and grooms. My Trio Rings is one of a few bridal jewelry vendors that not only are surviving in this challenging economy, but are quickly growing in popularity. Vipul Lakhi, CEO of My Trio Rings says that "The key to succeeding in this tough economic time is to offer a quality product at a very affordable price ". He adds, "Couples say they would rather use their money for a down payment on a house than on wedding rings from an overpriced brand-name store."
As an online jeweler, My Trio Rings works to keep its overhead low, which allows it to offer high quality wedding ring sets at prices that young people can afford. The company's goal has been to offer reasonably priced wedding rings without compromising on aesthetics or quality. Unlike other wedding ring vendors, over the last year the company has doubled sales of its diamond and gold wedding ring sets.
My Trio Rings aims to save its customers money by offering matching wedding ring sets. Their wedding ring sets are comprised of an engagement ring, the bride's wedding band, and the groom's wedding band. The ring sets maximize beauty and elegance while minimizing cost by using clusters of small diamonds that are much more affordable than single, solitaire diamonds. The company is committed to using only high quality diamonds from conflict-free sources.
Customers around the country are raving that the wedding ring sets meet both their needs and their desires. "I got the ring that I really wanted and could afford it," says Maria Balderas of North Carolina. "(The) diamond quality is just beautiful." Another customer, Jermaine Johnson of Georgia, says "You'll be hard pressed to find another business with their high-quality of personal customer service and affordable prices."
The company's wedding ring sets can now be purchased not only through its website, but also through such online retailers as Amazon, Google Shopping, Ebay, Nextag, TheKnot and Facebook.
About My Trio Rings
The mission of My Trio Rings is to help make a customer's search for the perfect wedding ring set as memorable, stress-free, and simple as possible. The company focuses on providing couples with affordable wedding ring sets, including trio ring sets, bridal ring sets, and his and hers wedding band sets. My Trio Rings is privately owned and is part of a group that has a worldwide presence in the diamond and jewelry industry for over 45 years, and has offices in Belgium, India, Canada, the US and Dubai. The New York City-based company employs a knowledgeable customer service staff is available to answer customer questions promptly online or by phone. For more information, visit http://www.MyTrioRings.com.
Contact:
Public Relations
877-302-3776, ext. 701
PR(at)mytriorings(dot)com
Photo Credit: epsos.de
# # #