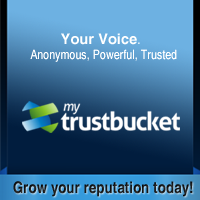 myTrustBucket is in the business of ratings and reputation, so I'd like the log-in process to be secure, and anonymous.
Wilmington, DE (PRWEB) July 28, 2011
myTrustBucket.com, the online ratings and reputation monitoring system for business owners, selected OpenID for a quick and secure log-in process. With OpenID, guests can use an existing username, password and other credentials to avoid the lengthy registration process required by many other websites.
OpenID solves the problem of remembering various log-in credentials by maintaining secure usernames and passwords, which can become difficult for both business owners and visitors. In turn, this allows users to spend more time viewing a website.
As the founder of myTrustBucket.com, web programmer Richard Wagener hopes to make innovative business decisions and positive impacts on customer experience. He stated, "myTrustBucket is in the business of ratings and reputation, so I'd like the log-in process to be secure and anonymous."
Wagener's website creates a reputation platform for business owners and an online venue for customers to rate good or bad experiences. myTrustBucket.com allows business owners to increase their traffic, trustworthiness, and credibility. All reviews made on this website are anonymous.
Several other large online organizations either accept or issue the OpenID method, including Google, Facebook, Yahoo!, Microsoft, AOL and MySpace.
For more information on how to rate an online company or begin a ratings page, visit http://mytrustbucket.com.
About myTrustBucket.com:
myTrustBucket.com, launched in the summer of 2011, provides business owners a unique way of tracking their reputation. It provides website owners and politicians with a protected review page where customers can offer ratings based on different categories depending on the type of site.
About OpenID:
OpenID is an Internet-scale identity system for easy web log-ins. OpenID was founded in the summer of 2005 by an open source community. It allows internet goers to use an existing account to sign in on multiple websites without needing to create new passwords.
Contact:
Secure Bucket, Inc.
561-463-2185
pr(at)mytrustbucket(dot)com
###