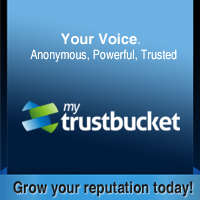 "I'm excited for the great benefits the site will provide to users. They have a 'one-stop shopping' approach to checking on a business, politician or website," said Richard, Owner of myTrustBucket.com
Wilmington, DE (PRWEB) June 30, 2011
myTrustBucket, a Delaware company, has announced the launch of its new website, mytrustbucket.com, a revolutionary concept in which users can build their reputation which in turn unlocks different features to give the user an even more powerful voice.
The idea behind the website is simple; it is a way for any business owner, regardless of niche or industry, to submit their domain for a unique way of tracking their reputation. Customers, users and visitors can then rate the website based on their experiences. What makes this site different from other review sites is that the reviews are done anonymously and are rated by a Trustscore which identifies how trustworthy a user is. myTrustBucket does not capture any public profile information on the users, as they are able to sign in using their own Google or Yahoo! accounts. This ensures the utmost in privacy and security. Email addresses are not obtained by the company.
"I'm excited for the great benefits the site will provide to users. They have a 'one-stop shopping' approach to checking on a business, politician or website," said Richard, Owner of myTrustBucket.com. "They can read other user reviews, comments, experiences and also learn more about the company. There is a rating system in place to let potential customers know as much about the website and business as possible.".
myTrustBucket will verify each review that is received to make sure it is a reputable one; if it cannot be verified, they will mark it accordingly. This protects both business owners and potential customers from false reviews.
The company plans on holding contests and promotions for frequent contributors who leave helpful reviews. They want this to be a true community-run website in which participation is strongly encouraged.
There are different levels of accounts that a user can create, based on how involved the user wants to get with the system. The packages are Free, Basic, Standard and Premium, and the cost is $0, $9, $19, and $49 per month respectively. The premium package includes a website logo, blocked advertising, xml integration, an SEO friendly link and more. There is a 30 day free trial on all packages.
Once they have created an account, they can add their website or review others fairly quickly and easily. The ratings for a website are based on 5 stars, and range from 'a perfect experience' to 'not a good experience.' There is also a comment section so users can expand on their rating. If the website or company is already listed, it will add their review to the others; if not, it will create the listing. Some of the categories they can rate are shipping, price, overall, service and returns, although this varies depending on the type of website.
Users can also add their own website once they have created an account. They can then direct customers or visitors to the site so they can rate sites based on their satisfaction levels. They will also be able to see all of the other reviews that customers have written. Potential customers can then make an informed decision based on what others have written.
myTrustBucket understands the importance of a website's reputation and they hope to help online businesses build and keep their good names. They also understand that customers need to have a voice and write about their experiences, good or bad.
There are over 1,000 businesses adding their websites each week, and the trend is not showing any signs of slowing down. This promises to be a one-of-a-kind website where trust, experience, privacy and security are not just empty words, but truly backed by the company.
myTrustBucket will continue to strive for excellence in all of their products and services, and provide the utmost quality in all that they do.
For more information, please visit mytrustbucket.com
###