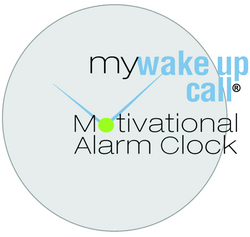 "Research shows that your mindset when you first wake up influences your perspective as your day progresses. My Wake Up Call® Motivational Alarm Clock Messages awaken you positively, when it can matter the most."
Westlake Village, CA (PRWEB) April 12, 2011
Former Broadway star, Robin (Boudreau) Palmer, has created My Wake Up Call® Motivational Alarm Clock™ Messages, which wake you up each morning positively. Instead of getting woken up by an annoying buzzer, or the often alarming news on the radio, you start each day with five-minute motivating messages that help you to wake up with positive focus and energy. (http://www.MyWakeUpCalls.net)
Each month of messages is downloadable to your iPhone, Smartphone, iPod Touch, available as CDs, or included free with My Wake Up Call® iPod Dock or CD Alarm Clocks. My Wake Up Call® also has a free iPhone App on iTunes.
MyWakeUpCalls.net currently sells thirteen different product lines - from messages that will help you to wake up and work out, lose weight for life, to messages for financial empowerment, wellness, or overcoming grief, with more on the way.
Robin starred in Broadway musicals for fifteen years. Some favorites include playing Linda Ronstadt's little sister in THE PIRATES OF PENZANCE with Kevin Kline, co-starring opposite David Cassidy in JOSEPH AND THE AMAZING TECHNICOLOR DREAMCOAT, and singing "Memory" in CATS. She has partnered with well-known experts and motivators like #1 NY Times best-selling author and featured teacher in "The Secret," Marci Shimoff, Oprah Winfrey Show guest and health coach, Victoria Moran, former longtime Senior Producer of Oprah Radio, John St. Augustine, and Sharon Lechter, co-author of the "Rich Dad, Poor Dad" series.
Maria Shriver recently gave My Wake Up Call® Motivational Alarm Clocks to the VIPs at The Women's Conference, including First Lady Michelle Obama, Oprah Winfrey, Dr. Oz, Anthony Robbins, Deepak Chopra, and many of the nation's leading CEOs. My Wake Up Call® has also been featured in SHAPE, SELF, Oxygen, Woman's World, on NBC TV and Fox News.
Listen to free My Wake Up Call® message samples at http://www.mywakeupcalls.net/my-products.php
Contact:
My Successables, Inc.
mywakeupcalls(at)gmail(dot)com
805.796.8201
# # #